---
Mining and raw materials are at the heart of every industry and innovative technology. Raw materials are used for a wide range of future-oriented technologies and as sources for power generation. Recently, the industry has seen an increased importance for mine operators to transport materials in the most efficient way while ensuring the highest reliability. Thus, the goal of improving efficiency and the ecological footprint of mining operations is the key target for equipment suppliers, especially when it comes to belt conveyor drivelines.
Current market conditions and pain points
The mining industry has seen rather radical changes in recent decades. Since the demand for raw materials has increased over the years, operators find themselves with the need to increase the overall productivity of mines. Another challenge for an increasing number of mines is their remote deposit locations, which are often a long distance from where the goods need to be transported. Generally speaking, conveyor systems need to carry more raw materials over longer distances compared to past decades, and therefore need more efficient and reliable drive systems to ensure a profitable mining operation.
This need has resulted in multi-motor drive conveyor systems with individual motor powers, often exceeding 500 kW. In order to ensure the smooth running of conveyor belts, torque control and load sharing capabilities have grown to be essential features to help overcome obstacles, for example saving the driveline from potential breakdowns. Recent advancements in hydrodynamic technology have shown that the advantages of hydrodynamics can increase productivity in a significant manner. Voith has recognised this and has developed the TurboBelt TPXL family of fill-controlled coupling technology, specifically focusing on digital products as part of its intelligent mining philosophy.
Conveyors
Conveyor systems are often used at mines to deliver raw materials and manage long distances more efficiently compared to other methods such as truck haulage. Generally, those systems consist of a driveline, belt, pulleys, idlers, rollers, a structure and tension devices. Voith has analysed the highest potential of optimisation in driveline efficiency, and thus developed the fill-controlled coupling.
The Voith TurboBelt TPXL group currently includes 500 kW, 800 kW and 1250 kW versions, combining hydrodynamics with intelligent control technology to optimise performance and efficiency. The couplings have an integrated controller that equals the output torque to the start-up parameters of the belt conveyor system, reducing wear and increasing the service life. Due to its high-power density, the range only requires half the volume of conventional couplings, and can therefore be easily integrated into existing drive trains.
The hydrodynamic principle
The company's fill-controlled coupling uses hydrodynamics to transmit mechanical power via a flow of fluid to the driven machine – the belt conveyor. Arranged through two bladed wheels positioned face to face, the primary wheel has a connection with the motor and acts as a rotary pump while the secondary wheel connects with the driven machine, acting as a functional turbine. In the process, power transmission proportionally adapts the fill level in the working circuit, resulting in a mechanical separation of the drive and driven sides. Thus, hydrodynamic couplings ensure wear-free power transmission and dampening of torsional vibrations, as well as torque shocks in the complete drive train.
Read the article online at: https://www.worldcoal.com/special-reports/30042020/hydrodynamic-duo/
You might also like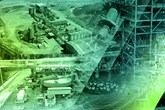 DRA Global has secured the contract for a major design package for Whitehaven Coal's Vickery Extension Project located in New South Wales, Australia.