---
Based in Cleveland, Ohio, USA, American Mine Door (AMD) has been solving problems for mining operations since 1906. Even at a time when miners relied on animals rather than not-yet-invented conveyor belts to pull tonnage from an operation, every mine still had eyes on safety and ventilation.
Fast forward a century, and the company is still used by many operations for their patented mine doors. The company's products can be found across many types of mines and in locations across the globe. The reason why is simple: the company fabricates some of the most leading-edge designs known to the industry from its large 9300 m2 fabrication facility.

Figure 1. An American Mine Door installed in 1968, still in operation today at Ouray Mine in Colorado, USA.
With these advanced designs comes the expertise of the company to answer the call of many mines to solve their problems. No matter the issue, its staff has incorporated technological answers into its designs and has supplied more than 10 000 doors worldwide to prove it – in coal as well as copper, zinc, gold, silver, potash and more.
"We have some unique features in our patented design that makes us one of the safest ventilation mine door systems in the market," said Pete Hallahan, who works for the company. He reports that some doors produced many decades ago are still in use and good working order, just as well as those that have been recently placed, thanks to a robust manufacturing model.
The 'opposing wing' design
Among the company's available models is one it considers to be its most successful: the AMD door with opposing door wing panels. The design, its safest, equalises the air pressure when in use and uses existing air flow to offer balanced operation by cancelling out that air pressure. Additionally, a 12/6 pitch reduces the door's movement and makes it faster.
The company's design allows for the doors to withstand high water gauge pressure and can remain closed if an operation reverses its air currents. It can be installed on any slope and the company's design creates an airlock that allows traffic flow in areas where flow is not needed or wanted. It can be set to open and close on a cycle time of between 10 – 12 secs.
The reasons this design has seen so much interest in mining operations around the world is multi-faceted. First, mines are undoubtedly changing, and mine designs are becoming more complex. In coal specifically, the need for more significant ventilation solutions to effectively manage the gassiest of mines is greater than ever.

Figure 2. Large hydraulic operated 22' wide x 20' high High Pressure Mine (HPM) Door installation at Greer Mine, West Virginia, USA.
Safety has always been important, but a 'safety first' mindset that includes a goal for zero harm has made it paramount. Finally, automation has changed the game for every size of mine no matter its commodity or location.
"It is not as simple as it was 20 years ago, but American Mine Door has risen to the challenge," Hallahan said, noting that the doors are re-usable and can be easily automated and moved if a mine's flow or traffic needs changing. "For over 100 years, American Mine Door had a stellar reputation for quality here in the US. Now, it's a matter of letting the rest of the world in on this secret."
Today, the company's line-up includes the HPM, used in areas of high water gauge pressure and ideal for high traffic main haulage ways. These heavier construction doors are built as large as 24 ft wide and 20 ft high, or larger. The Model 400M has a smaller frame, is lighter in weight and has narrower wing panels. The EcoVent door is specifically designed as an alternative to traditional re-usable underground equipment doors and/or machine doors using the same patented opposing wing design; it is also the most cost-efficient option of the line.
To read part two of this article, click here.
Read the article online at: https://www.worldcoal.com/special-reports/15092020/safety-first/
You might also like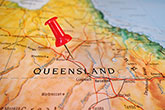 CIMIC Group's minerals processing company, Sedgman, has secured an operations and maintenance contract in the Bowen Basin, Queensland, from Pembroke Resources.