---
At the 6th China International Conference on CO2 Capture Utilization and Storage, China Huaneng Group Clean Energy Research Institute Co. Ltd and Carbon Capture Transport and Storage Company of Glencore recently signed a memorandum of understanding (MOU) for the cooperation on carbon capture utilisation and storage (CCUS) technology, commencing with the CTSCo Project in Millmerran power station in Australia.
Glencore is one of the world's largest diversified natural resource companies and China Huaneng is one of the world's largest energy and technology companies.
Upon signing the MoU, both companies committed to supporting the deployment of low emissions technologies like CCUS to reduce greenhouse emissions from the use of fossil fuels and other industrial processes.
The CTSCo Project in Queensland, Australia, will use China Huaneng's carbon dioxide (CO2) capture technology at the Millmerran coal fired power station to capture a stream of CO2 which will then be transported and stored permanently in a non-potable aquifer at a depth of more than 2 km.
"This is the first integrated international CO2 capture and storage project that China has participated in. Huaneng will work with Glencore to complete a high-quality carbon capture project in Australia's Surat Basin, build a high-quality cross-industry international cooperation project, help coal-fired power generation achieve 'near zero emissions', and enhance its international influence," said Dr Li Weidong, Chairman of China Huaneng Group Clean Energy Research Institute Co. Ltd.
Glencore CEO, Ivan Glasenberg, welcomed the ongoing collaboration with China Huaneng: "We are very pleased to strengthen our collaboration with China Huaneng on the CTSCo Project. This project is vitally important because it can scale up to support the reduction of Scope 3 emissions from the use of fossil fuels across a broad range of industrial sectors."
The CTSCo Project is Australia's most advanced onshore CCUS project and will demonstrate CCUS at an industrial scale. Key funding and project participants include Glencore, China Huaneng, Low Emission Technology Australia, Australian National Low Emissions Coal Research and Development and the Australian government.
Read the article online at: https://www.worldcoal.com/power/13042021/china-huaneng-group-and-glencore-sign-mou-on-ccus-project/
You might also like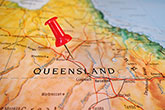 CIMIC Group's minerals processing company, Sedgman, has secured an operations and maintenance contract in the Bowen Basin, Queensland, from Pembroke Resources.