---
Maximising diamond recovery while optimising costs is the priority of every diamond producer. TOMRA's holistic approach and cutting-edge technologies, such as its X-Ray Transmission (XRT) diamond recovery technology, can help diamond miners achieve this. The company (through this use of technology) offers a guaranteed diamond recovery greater than 98% and a 100% detection in the specified range, irrespective of luminescence profile or coating.
The company approaches every project as a partnership with the customer to deliver a complete solution that meets their operational and business requirements, beginning with a detailed analysis of the customer's requirements and operational needs.
Working collaboratively, it assists in developing a tailor-made flow sheet redesign that combines its XRT technology with its Near Infrared (NIR) and Laser solutions as needed. This collaborative approach continues throughout the project, with testing at its Test Center in Germany and on-site as required, through to installation and beyond.
The complete solution can also include the web-based TOMRA Insight platform that turns all the sorters into connected devices for monitoring and tracking the system's performance.
Once the system is fully operational, TOMRA remains at the customer's side through its Service Level Agreement to ensure the solution continues to deliver the desired results. The tailored agreement can include on-site presence as required, product support, application engineer visits, tiered urgency support, targeted site response, training, as well as spare and wear parts coverage to ensure maximum uptime and protect the customer's investment.
Advanced technologies adding value
The company's XRT technology recognises and separates material based on its specific atomic density. It uses an x-ray camera with DUOLINE® sensor technology to measure spectral absorption information. The proprietary high-speed x-ray processing unit uses the data to produce a detailed 'density image' of the material. The result is a high level of purity in sorting materials, irrespective of size, the degree of moisture or surface pollution present. TOMRA's XRT high-capacity sorters are can recover of free, liberated diamonds at high feed rates up to 300 tph.
The company's NIR sorters recognise and separate Kimberlite and waste rock based on their chemical composition. This technology is useful in upgrading lower grade ROM and stockpiles, producing a Kimberlite concentrate for further processing.
Customised solutions
The customised approach means the company can deliver on its promise of guaranteed results both in hard rock kimberlite/lamproite and alluvial deposits – each of which presents their specific challenges.
In kimberlite, the challenge is to recover 'needle in a haystack' diamonds, which requires controlled crushing of kimberlite ore to avoid damaging or breaking the diamonds. High waste dilution impacts the crushing energy needed and further increases diamond breakage risk.
Utilising the company's NIR technologies can remove non-diamond bearing material, improving the crushing profile of the ore amd increasing the value of each ton of ore processed.
Additionally, complex, energy- and water-intensive kimberlite liberation processes, and the cost of transportation for crushing and processing, are challenges facing modern diamond miners today. The XRT and NIR technologies allow the production of hand sortable, ultra-high grade concentrates in as little as two stages compared to up to seven in traditional methods.
The challenge of economically mining low-grade alluvial deposits is due to their typically lower grade and the sporadic nature of the deposits. Another advantage of TOMRA's XRT solution is that it can operate as a dry process, which dramatically reduces its environmental impact and operational complexity.
TOMRA XRT machines have proved effective in alluvial operations. One such case is that of the Lulo mine in Angola operated by Lucapa Diamonds, where TOMRA XRT technology is used to process material between 18 and 55 mm in size and allows the recovery of diamonds up to 1100 carats and where it has recovered Angola's second-biggest diamond on record, a 227 carat stone in 2017.
Stephen Wetherall, Lucapa Diamonds Managing Director at the time of recovery, commented: "The recovery of the 227-carat diamond using the new XRT circuit justifies our investment in TOMRA's large diamond recovery technology, which has more than paid for itself with the recovery of this one stone alone."
Optimised flow sheet
TOMRA is able to offer diamond operations a full XRT recovery flow sheet to 2 mm that delivers concentration factors up to 1 million with a much-reduced number of concentration stages.
"TOMRA XRT technology replaces multiple stages of diamond concentration by virtue of its ability to concentrate diamonds to a hand sortable product after only a single step," explained Geoffrey Madderson, Diamond Segment Manager for TOMRA Sorting Mining. "This concentration factor allows for the removal of multiple recovery steps, drastically reducing both the capital investment and operational costs to recover Diamonds."
TOMRA's XRT technology can replace traditional methods such as Dense Media Separation (DMS), wet magnetic separation and XRL final recovery with single-stage solutions for +8mm and double-pass for -8mm +4mm particles.
The company's solution eliminates up to seven concentration stages, dramatically reducing the complexity of the supporting plant and infrastructure. This results in significantly lower power and water consumption, which not only reduces costs, but also the environmental impact of the recovery process.
An additional benefit of TOMRA's solution is that it is a fully automated process, so that there is no manual handling during pre-concentration and recovery, which has positive implications on security and eliminates human error resulting in greater accuracy.
Recovery
The company's sorters not only stand out for their high capacity, they process these large volumes with great efficiency, finding more diamonds than other, traditional separation methods – including coated and low- or non-luminescent diamonds.
The result is an exceptionally high recovery rate: "TOMRA guarantees >98% recovery: that is how confident we are in our technology," stated Geoffrey Madderson.
With TOMRA's sorting solutions, diamond producers can install large diamond recovery systems with a small capital investment and operate with a fraction of operating expenditures per tonne compared to traditional recovery methods such as DMS and XRL. In addition, the economic recovery of Ultra Low-Frequency Exceptional Diamonds of +32mm is now possible.
"TOMRA's ability to deliver not only a technology that can detect such large diamonds but also an economical process solution for the recovery of ultra-rare, exceptional diamonds, is what sets it apart from its competitors," concluded Geoffrey Madderson.
Read the article online at: https://www.worldcoal.com/mining/16072020/tomra-makes-recovery-promise-to-diamond-miners/
You might also like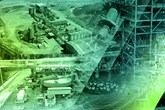 DRA Global has secured the contract for a major design package for Whitehaven Coal's Vickery Extension Project located in New South Wales, Australia.