---
VGK has recently started work on the construction of the foundation as part of the project for the construction of a 23 km main coal conveyor on Sakhalin, which will connect the Solntsevsky coal mine with the Shakhtersk Coal seaport. Currently, construction work is underway in the area of the village of Olkhovka.
As part of the started work, the excavation is being developed, which includes the replacement of heaving soil with a drainage one, backfilling the base under the foundation and the installation of foundation blocks on the base prepared for them.
The complexity of construction work on a section of the conveyor line is due to geological conditions and rugged terrain. 13 km of the conveyor section falls on soft soils. Therefore, for the strength of the structure, monolithic foundations on pile foundations are installed on them while block foundations are used on dense soils. According to the calculations of the builders, 5383 piles will need to be driven in order to install the monolithic foundation.
After the completion of the foundation work, the assembly of the conveyor equipment will begin, the supplier of which is the French company RBL-REI SA, one of the world leaders in the field of engineering of such systems. By the end of September, the first batch of equipment will be delivered to the Uglegorsk region.
Parallel to the conveyor axle, a road base is made for a technological highway, which is intended for the construction and maintenance of a conveyor gallery.
The start of work on the construction of the foundations of the main conveyor supports was preceded by the design documentation, obtaining a construction permit and the selection of contractors for construction and installation work. Also, at the preparatory stage, soil development was carried out, the route was cleared from plantings, and temporary roads were installed.
The construction of the main conveyor is being implemented by the Eastern Mining Company under the Free Port of Vladivostok regime, which applies to the Uglegorsk District. According to preliminary data, the total investment in the project will amount to 7 billion rubles. The construction plan is calculated until the end of 2021.
Read the article online at: https://www.worldcoal.com/coal/24092020/vgk-starts-work-on-conveyor-support-foundations/
You might also like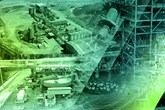 DRA Global has secured the contract for a major design package for Whitehaven Coal's Vickery Extension Project located in New South Wales, Australia.