---
A consortium led by Mitsubishi Power, a subsidiary of Mitsubishi Heavy Industries (MHI) Group, has completed the construction of an integrated coal gasification combined cycle (IGCC) plant in Iwaki, Fukushima, Japan, that was followed by the formal handover to the customer, Nakoso IGCC Power GK. Operation of the new facility, which is a high-efficiency, clean commercial power plant incorporating the world's most advanced coal gasification technologies, got underway on 16 April 2021. Mitsubishi Power manufactured the core air-blown IGCC system, including the coal gasification furnace. The project called for creation of the world's largest IGCC configuration, roughly twice the scale of the Nakoso Unit 10 (former IGCC demonstration plant) completed earlier. This is the first domestically developed air-blown IGCC system of such large scale in commercial use. Compared to the Unit 10, power generation efficiency has been substantially enhanced reaching 48%, which was enabled by the gas turbine's having a higher combustion temperature.
In this case, the IGCC plant adopts a high-efficiency 'combined cycle' methodology. Coal is gasified in a gasification furnace at high temperature under high pressure; sulfur, ash and the like are separated out and removed; and the refined gas is used as fuel to drive a gas turbine. In this configuration, the gas turbine is combined with a steam turbine that operates using the steam generated by a waste heat recovery boiler fuelled by waste gas. Compared to conventional coal-fired power plants, IGCC plants provide greater power generation efficiency and help to reduce carbon emissions. For these reasons, they do respond to the needs of power providers in their efforts to make effective use of resources while simultaneously protecting the environment.
Also, because MHI Group takes charge of supplying all core components – including the gasification furnace, gas refining equipment, gas turbine and steam turbine – the company is in a position to provide IGCC systems offering totally optimised performance and reliability.
The IGCC plant construction project undertaken by Nakoso IGCC Power GK incorporates the hopes and expectations of all parties concerned that, by integrating the world's most advanced thermal power generation technologies, the plant will contribute to creation of the local industrial infrastructure, and thereby to Fukushima's recovery.
Through its participation in this project, Mitsubishi Power will contribute to the effective use of resources, environmental conservation and improve decarbonisation by promoting the expanded adoption of IGCC, the next-generation high-efficiency power generation systems, as well as contribute to the revitalisation of local communities.
Read the article online at: https://www.worldcoal.com/coal/20042021/nakoso-igcc-plant-completed/
You might also like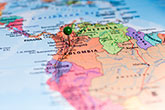 Benjamin Hill has entered into a nonbinding letter of intent with Aion to acquire interest in a Colombia coal project.