SUEK invests in Cat system upgrades at Russian V. D. Yalevskogo Mine
Published by Jessica Casey, Editor
World Coal,
---
Caterpillar has announced it will deliver a complete armoured face conveyor system upgrade to Siberian Coal Energy Company, SUEK, for its V. D. Yalevskogo Mine, located in the Kemerovo region, Siberia, Russia. The order includes the Cat® AFC PF6 Armoured Face Conveyor, BSL PF6 Beam Stage Loader, SK1114 Crusher Station, SMB 1600/3500 Belt Return Units, and a steering system including 45 sets for 225 roof supports plus a spare parts package.
The armoured face conveyor and belt return are powered by three, 1200-kW Cat CST65 drive systems, offering 2133 kN (479 415 ft-lb) short-duration, maximum torque output. Specially designed for long, high-capacity faces, the controlled start transmission (CST) drive systems provide no-load motor start-up, synchronised soft-start, and heavy-load start-up capabilities as well as accurate load sharing and instant, effective overload protection.
The longwall panel at the Yalevskogo Mine averages a 3.8 m (12.5 ft) seam height and 400 m (1312 ft) face length. With a minimum targeted productivity of at least 4400 tpy, the mine's targeted average production is approximately up to 5 million tpy of a thermal (steam) coal. Using the Caterpillar longwall system, the mine has previously set monthly and annual Russian national coal production records.
The backbone of the PF6 Armoured Face Conveyor, the line pan conveys material from the face and acts as the guiderail for the shearer, offering traction forces reaching 1000 kN (224 809 ft-lb). The line pan ordered for the Yalevskogo Mine offers a 5000 tph conveying capacity.
A unique hybrid pan design addresses pan wear by making the parts subject to the most wear replaceable. Its patented replaceable trough concept with extremely rugged pan allows worn top troughs to be quickly and easily replaced by new ones. The new design splits the PF6's different functional areas to enable the separation of wear parts from structural. Its replaceable trough made from highly wear-resistant materials plus rugged pan design makes the PF6 ideally suited for extended face length panels, such as the Yalevskogo Mine.
The system's bottom race features a special shape that nearly doubles the contact surface area to reduce flight bar shoulder wear and substantially lower friction. Curved transitions at the pan ends significantly reduce noise levels during chain conveyor operation.
Installation and technical support will be provided by Cat dealer, Vostochnaya Technika. The complete armoured face conveyor system has an anticipated late-2Q22 delivery date.
Read the article online at: https://www.worldcoal.com/coal/17112021/suek-invests-in-cat-system-upgrades-at-russian-v-d-yalevskogo-mine/
You might also like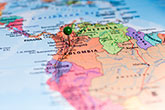 Benjamin Hill has entered into a nonbinding letter of intent with Aion to acquire interest in a Colombia coal project.