Kal Tire's Chilean tyre recycling facility nears full start-up
Published by Will Owen, Editor
World Coal,
---
Kal Tire's new off-the-road (OTR) tyre recycling facility in Antofagasta, Chile, is getting closer to full start-up. One of two thermal conversion reactors has successfully completed commissioning and is now undergoing full load tests to process 20 000 kg of tyres, the equivalent of five 63 in. tyres. Commissioning of the facility's second reactor is nearly complete and full production is in sight.
"Kal Tire is committed to solving one of our customers biggest challenges with scrap tyres – the disposal of them," says Dan Allan, senior vice president, Kal Tire's Mining Tire Group. "There have been many learnings to get to this stage, but we wanted to ensure we were building a recycling facility to the highest standards in every aspect of design, safety, and environmental considerations.
"These are exciting milestones for everyone involved and I would like to thank all those we continue to receive support from – the Chilean Government, our customers and several tyre manufacturers and rubber producers."
Determined to provide a scrap tyre solution at the top of the recycling hierarchy in Chile, where mining tyre legislation was taking root, in 2015 Kal Tire began the arduous process of studying, engineering, and even building the equipment so it could offer thermal conversion recycling. The process uses heat and friction to induce a reaction that converts tyres into their base elements (fuel oil, steel, and carbon black) so they can be reused.
Located in the heart of Chile's mining industry, which Kal Tire has been serving for decades, the 20 000 m2 Antofagasta plant consists of an area to inventory scrap tyres, cutters to reduce them in size, two reactors, oil storage tanks, and carbon storage. In late 2020, the first reactor passed its 'wet test', followed by numerous other tests. Full load tests are now underway for the first reactor to process 20 000 kg of tyres. The equivalent of five 63 in. tyres will be converted into 6500 litres of alternative fuel, 4000 kg of steel, and 8000 kg of carbon black as well as enough synthetic gas to fuel the plant itself for seven hours. Local companies are already lined up to receive these reusable products.
"To have the first reactor successfully commissioned is a significant achievement because it means we can now confidently work toward full operation for our customers, who have been very supportive of this project," says Pedro Pacheco, vice president operations, Latin America. "In particular, Antofagasta Minerals S.A. and Minera Los Pelambres have been very supportive and have initially provided us with more than 2300 t of scrap tyres, becoming the first mining company in Chile to recycle their ultra-class mining tyres with us.
"We also spent a lot of time working with the Chilean government to receive environmental certification. Their level of due diligence is commendable, and we want to recognise their leadership in creating this legislation."
When it comes to safety, consideration has been given to every possibility. A large water reservoir and numerous water cannons were installed along with infrared sensors and a special fire encapsulation ingredient. With earthquakes common in Chile, the facility has been engineered to withstand a magnitude 9.0 earthquake. Automation is also being employed to reduce risks to team members, who have received highly skilled training.
OTR tyre recycling in Chile has recently been passed into law. Starting in 2023 through 2026, 25% of mining tyres must be recycled, this increases to 75% as of 2027, and to 100% as of 2030. Existing piles of scrap tyres are the responsibility of mines, and given the size and maturity of mines in Chile – a world leader in large scale open-cast mining – there are many tyres awaiting this next step.
With commissioning of the second reactor nearly complete, Kal Tire aims to be in full production by summer, recycling 20 000 kg of tyres each day. "The lessons we have learned along this journey have been invaluable," says Allan. "What we now have is a scalable plant and can add reactors if we choose to. We also certainly support others looking to be a part of recycling end-of-life tyres in Chile – and we hope the same high standards of safety and engineering will be applied."
Read the article online at: https://www.worldcoal.com/coal/16032021/kal-tires-chilean-tyre-recycling-facility-nears-full-start-up/
You might also like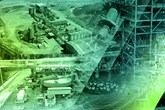 DRA Global has secured the contract for a major design package for Whitehaven Coal's Vickery Extension Project located in New South Wales, Australia.