ResearchAndMarkets publishes Coal Global Markets Report
Published by Joe Toft, Editorial Assistant
World Coal,
---
The global coal market is expected to grow from US$595.59 billion in 2021 to US$645.7 billion in 2022, at a compound annual growth rate (CAGR) of 8.4%. The coal market is expected to grow to US$900.78 billion in 2026 at a CAGR of 8.7%.
The coal market consists of sales of coal by entities (organisations, sole traders, and partnerships) that mine bituminous coal, anthracite, and lignite coal by underground mining, strip mining, culm bank mining, and other surface mining techniques.
The coal mining industry also develops coal mine sites, and improves coal, including cleaning, washing, screening, and sizing of coal. The coal market is segmented into bituminous coal and sub-bituminous coal.
The main types of coal are bituminous coal and sub-bituminous coal. Sub-bituminous coal is a type of coal that is grey-black or dark brown in colour and varies in hardness from hard to soft because it is an intermediate stage between low-quality lignite and higher-quality bituminous coal.
The carbon content of sub-bituminous coal ranges between 70 – 76% and is used in power plants to generate steam for the generation of electricity. The various technologies used to extract coal include surface mining, underground mining, and the different end user industries of coal are electricity, steel, cement and others.
Asia Pacific was the largest region in the coal market in 2021. Eastern Europe was the second largest region in the coal market. The regions covered in the coal market are Asia Pacific, Western Europe, Eastern Europe, North America, South America, Middle East, and Africa.
Coal mining companies are using 3D mine visualisers to obtain a real-time digital model of a mine. A 3D mine visualiser generates a three-dimensional model of the mine layout and transfers it directly to the operator, significantly enhancing the productivity of large mining environments.
Read the article online at: https://www.worldcoal.com/coal/14092022/researchandmarkets-publishes-coal-global-markets-report/
You might also like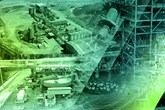 DRA Global has secured the contract for a major design package for Whitehaven Coal's Vickery Extension Project located in New South Wales, Australia.