Trafo Power Solutions supplies transformers to South African coal mine
Published by Jessica Casey, Editor
World Coal,
---
Trafo Power Solutions has customised two dry-type transformers for a coal mine in South Africa's Limpopo province, allowing the units to be fitted into existing enclosures while meeting the customer's demanding duty requirements.
"While we would normally supply the transformer together with its enclosure, we are also able to design the solution according to the dimensions available on site," said David Claassen, Managing Director of Trafo Power Solutions.
This required one of the transformers – a specialised 3900 kVA unit – to be copper-wound to achieve a smaller footprint suitable to the space constraints without compromising the technical performance. With 11 kV capacity on the primary windings, this transformer included four separate secondary windings – for 1810 V, 1515 V, 1360 V and 1210 V output respectively.
"Being located outdoors on a coal mine, the transformer had to be well protected from fine dust and moisture, requiring a specially designed IP54 enclosure," added Claassen. "At the same time, the transformer's large size meant substantial heat loss, which needed to be extracted from the enclosure. The design therefore included an air-to-air heat exchanger to recycle cool air in a closed loop."
The second transformer supplied to the mine was a 1600 kVA unit for indoor application, stepping down from 11 kV to 550 V. Working closely with transformer repair experts Koratech Services, who applied certain modifications to the enclosure, Trafo Power Solutions was able to meet the dimensional and electrical requirement of the application – complete with control and protection system.
"Underground mining often presents space constraints which have to be considered in the design of the transformer or the miniature substation," he commented. "With our expertise and our strategic partnership with leading Italy-based manufacturer TMC Transformers, we can readily cater for these conditions."
Claassen also highlighted that both transformers were ordered during the tight Level 5 COVID-19 lockdown in South Africa. Despite similar restrictions in Italy, TMC Transformers proceeded with manufacturing, running a 24-hour, three shift operation to ensure the required social distancing.
"The high level of collaboration with our strategic partner allowed us to design, build and supply the transformers despite the COVID-19 disruption in 2020," he says.
Claassen said the dry-type transformer is ideal for both hazardous and non-hazardous areas of coal mines, as the absence of oil as a coolant makes the solution much safer. There is also much less maintenance required on dry-type transformers.
Read the article online at: https://www.worldcoal.com/coal/14042021/trafo-power-solutions-supplies-transformers-to-south-african-coal-mine/
You might also like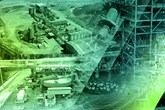 DRA Global has secured the contract for a major design package for Whitehaven Coal's Vickery Extension Project located in New South Wales, Australia.