---
Cokal Ltd has provided an update on its BBM operation in Indonesia.
Highlights
Jetty site for barge loading selected at Batu Tuhup.
Preliminary layout completed.
Consultants being selected for engineering and construction.
LiDAR survey of site contracted to start week beginning 16 August 2021.
Bathymetric survey of the site to start week beginning 16 August 2021.
Downriver intermediate stockpile site selected at Buntok.
LiDAR survey of this site contracted to follow survey at Batu Tuhup.
Road into Pit 3 reaches 68 km mark, having constructed five bridges and 10 culverts.
Mining contracted mobilisation details being finished.
The site has been selected for the jetty to load barges at Batu Tuhup, approximately 1.5 km from the temporary jetty site BBM has contracted to use for the first year.
This site has more than 300 m frontages on the Barito River and at this location has more than 2.5 m water depth all year long. A preliminary layout has been completed to be detailed when the topography and bathymetry survey results are available. The barge loader will be capable of 1000 tph.
A contractor has been engaged to undertake a LiDAR survey of topography and a second contractor to undertake a bathymetric survey, both to be done week beginning 16 August 2021 once the current COVID restrictions PPKM Level 4 is complete.
The downriver ISP will be at Buntok. A LiDAR topographical survey of this site will be conducted as soon as the Batu Tuhup survey is completed.
Progress on the road from 52 km into Pit 3 at BBM has progressed, with a number of bridges and culverts being constructed. Additional equipment has been mobilised to increase the rate of this progress.
The remnants of old bridges are dismantled, any reusable logs recovered, and a new bridge constructed. Then the road is cleared to access the next bridge. Many of the old bridges failed because geofabric was not used to cover the logs before placing road construction fill over them. Some significant cuts have been excavated.
Read the article online at: https://www.worldcoal.com/coal/09082021/cokal-makes-progress-towards-mining-at-bbm/
You might also like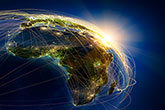 Contango Holdings Plc has advised that the production of washed coking coal has commenced at its flagship Lubu Coking Coal Project in Zimbabwe.