---
In today's modern environment, new tools and technologies are emerging every day. It is important for operation leaders to optimise these resources and implement them in workflow practices. These tools can allow for managing operations, tracking, improved communication and more on the job necessities while also in new environments.
Not only is there new mobile devices and software being devel-oped, but the technology that is currently in the field, such as smartphones, GPS and cloud computing, among other innovations, are also undergoing improvements and updates.
With this wave of new and improved tools, change is inevitable, and many questions arise for operations management, including:
Why is this technology being adopted in the workflow?
What is the proper approach to integrating this tool into our processes?
What data will be collected and what is the most valuable information received from it?
How can the different skill sets of field workers while ensuring adoption be accommodated?
When considering new electronic solutions or field service software to optimise field operations, these questions raise a valid point, but there are other factors that should also be considered.
Digitalised operations
Also known as the paperless approach, this is an opportunity for upgrading tools and technologies with field operations and adapting to a digital solution. This could be anything from an implementation of an electronic platform or adoption of a solution integration with an already established tool. Originally, the method of going paperless only required scanning documents such as work tickets or receipts, creating a digital copy of the paper.
From there, this approach became a little more sophisticated, allow-ing those scans to capture structured data and provide more infor-mation moving forward. However, these approaches are nowhere near how comprehensive field operations solutions can be and the efficien-cy they can provide. Complete digital and mobile field operations solu-tions have multiple built-out elements such as:
Entirely electronic and error reduction
For every piece of paper documentation between field workers and back-office, there is an estimated US$10 cost associated with processing the paperwork. In addition to those costs, there is an increased potential for errors when implementing the information into the database. This could be anything from the legibility of writing or typing errors when entering data into the system to delays in general, especially with customers. Each of these issues increases the risk of miscommunication, not to mention added costs. The proper digital solutions can feed field-generated data into the back-office without compromising the information and efficiency with each job.
Comprehend vs capture
Simply capturing documentation, through tools like paper scanners, is not an efficient use of resources in the industry. They lack the ability to interpret internal logic and prevent errors in the documentation, ultimately replicating the same issues that paper provides. Field workers should have solutions that help perform validation of data, preventing inaccurate entries and optimising operations overall. Artificial intelligence factors of a solution are valuable additions to any tool or technology. These solutions can comprehend and configure solutions based on job conditions, assigned equipment, or other factors that play a role in everyday workflow.
Modification capabilities
Adaptability for any company, job, or person is important for all platforms. Solutions should be capable of allowing customised operations flow, organisation, or regulatory requirements. Anything from changing the location and appearance of screen elements to incorporating required data entry points can make a big difference in individual workflow applications and processes.
Accessible intelligence
Data can and must be easily accessible for everyone from back-office to fieldworkers and even customers. With processing and approvals, there is a need for information to be available and updated in real-time, especially for the remote and mobile field workers. Solutions must satisfy these demands in order for everyone to be on the same page and able to move forward with their jobs. This includes tools with the ability to obtain customer signatures, house email chains, and improve remote working communication.
The second part of the article is available to read here.
Read the article online at: https://www.worldcoal.com/special-reports/12112020/face-the-modern-workplace/
You might also like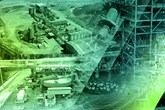 DRA Global has secured the contract for a major design package for Whitehaven Coal's Vickery Extension Project located in New South Wales, Australia.