---
Metallurgical coal production remained strong in 3Q15 at the major mining companies – particularly from Australia. But thermal coal production suffered as demand for the fuel remained weak around the world.
Light at the end of the metallurgical coal tunnel?
Rio Tinto reported its hard coking coal production was up 5% on 3Q14, while production for the nine months to September was up 10% at just under 6 million t. In the first nine months of 2014, the company produced 5.42 million t of coal.
The rise in output came on the back of the production ramp up at the Kestrel mine, which mined 1.99 million t over the first nine months of the year, up from 1.61 million in 2014. Production also increased at the Hail Creek mine to just under 3.97 million t compared to 3.8 million t last year.
Anglo American also recorded an increase in export metallurgical coal by 8% to 5.5 million t as a result of record production at Capcoal's underground Grasstree operation and the development coal delivered from the Grosvenor longwall project. This offset the placing into care and maintenance of Peace River in Canada and an extended longwall move at Moranbah.
Elsewhere, South32 reported a rise of 4% in Illawarra metallurgical coal production to 2.49 million t, while Vale's Carborough Downs mine – which produces mainly hard and semi-soft metallurgical coal – achieved record third quarter production on 730 000 t, 17% higher than 3Q14.
At BHP Billiton, metallurgical coal production was in line with the same period last year at 10.45 million t as record production at the Duania and South Walker Creek mines offset falls in production at Broadmeadow and Crinum, where there were planned longwall moves.
Overall, the Australian producers saw exports of metallurgical rise 2 – 3% between January and August to 123.2 million t, Stephen Duck, Senior Consultant – Steel Raw Materials at CRU, told World Coal.
"Companies' decisions to increase production volumes to reduce unit costs, rather than undertake production cuts, has, to a large extent, been forced upon them because of the pre-existing take-or-pay contracts that many companies hold with local infrastructure providers," Duck explained. "These contracts effectively reduce the economic incentive for miners to cut costs through scaling back production. Any potential cost savings that are realised through reducing production volumes would likely be erased by having to pay infrastructure companies for full production volumes regardless."
In addition, Australian producers have continued to reduce costs through improved productivity, while a weakening Australian dollar against the US dollar, helped to maintain coal prices in Australian dollar terms, despite falls in the US dollar price, Duck continued. "It has picked up slightly in recent weeks, but remains considerably lower than the start of the year."
The quarter also saw the first production (15 000 t) of metallurgical coal from the Haju mine in Indonesia, where BHP Billiton holds a 75% stake in saleable production.
Away from the majors, however, and high-cost production – particularly from the US – is now being taken offline, leading some to see signs of a market bottom for metallurgical coal prices. Speaking at this year's Coaltrans World Coal Leaders Network in Barcelona, Ted O'Brien of Doyle Trading Consultants, suggested that, despite the rises in quarterly production at the majors, Australian exports may now be peaking, a point that Duck also made – albeit with a more cautious note.
"Looking ahead to next year, we forecast exports to dip, due to the closure of BHP Billiton's Crinum mine and due to previously announced output reductions at mines, including Peabody's. However, we do not expect a significant volume of production to be permanently closed given producers' healthy competitiveness relative to other seaborne producers. We still expect most Australian miners to target production at near full capacity going forward in order to maintain high productivity at mines and keep unit costs low. We also expect the Australian dollar to stay low, which will be beneficial also."
But add into the mix falling exports from the US, where the two largest metallurgical coal producers are in bankruptcy proceeding, and Doyle concludes that, while there may be a couple more years of pain ahead for the sector – particularly if Chinese steel production drops more steeply than anticipated – the upside potential is now greater than the downside risks.
Thermal blues
On the thermal side, although BHP Billiton reported steady production of 9.85 million t, there were falls at Anglo American, Rio Tinto and South32. Meanwhile, away from the majors, in Indonesia, production fell 14% in the first nine months of the year to 308 million t, according to Reuters, while exports were down 20% to 235 million t over the same period. The Indonesian Coal Mining Association now expects exports to fall below 300 million t in 2016 as 60% – 70% are cash-flow negative at current prices.
In the US, producers suffered from a steady fall in demand from the power sector, as cheap natural gas gained market share, and the strength of the US dollar hit the sector's export potential.
"Currently, US thermal demand for the nine months ended 30 September 2015 from electric generators is estimated to be down 67 million short t," said US coal company, Cloud Peak Energy, while Peabody Energy said it expected US thermal coal demand to fall by 100 million short t over the course of the year. The company also said it has adjusted its expected US sales volumes for the year down by 5 million short t and expects further production cuts to be announced.
It is not all doom and gloom in the thermal coal sector, however – particularly in Asia. Speaking at the Coaltrans conference in Barcelona, Fabio Gabrielli of Mercuria Energy Trading, said he expected to see the market grow next year on demand rises from East Asia and India.
Meanwhile, CRU expects a CAGR for the seaborne thermal coal market of 2.6% between 2015 and 2020, Matthew Boyle, Principal Consultant at CRU told World Coal. Asia will be the main driver for growth with a CAGR of 3.4% and India in particularly growing by a CAGR of 12.3% to 2020. But European demand will also grow slightly, said Boyle, at a CAGR of 0.4% between 2015 and 2020 on the back of rising imports into Germany and Spain, as domestic mines are closed.
Meanwhile, addressing the elephant in the room, Boyle argued that falls in Chinese demand for thermal coal imports reflect not a lack of apparent demand but competition from increased domestic thermal coal flows. Despite the bad headlines – particularly from the US – thermal coal demand may be in a more robust position than many think.
This article first appeared in the November 2015 issue of World Coal.
Read the article online at: https://www.worldcoal.com/special-reports/06112015/coal-markets-to-return-to-growth-in-2016-3121/
You might also like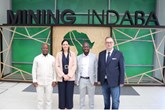 Continuing a spate of new global enrolments, the World Coal Association (WCA) has welcomed South African mining investor, Menar, to its roster of progressive coal members.