---
MTG has furnished the front of the bucket of a Hitachi* EX5500 hydraulic excavator with a 148 in., 5 position, cast lip, equipped with all of the G.E.T. MTG Systems TwinMet. The aim of the company was to eliminate breakage and loss of blade shrouds, which had been observed in competitors' protection systems, and increase machine productivity, with less down time dedicated to G.E.T. changing.
After 2000 hours working in an anthracite coal mine results have been entirely satisfactory, with no incidents attributable to G.E.T.
GET-changing downtime was reduced. Changing elements, especially the teeth, in such a short period of time, allows the great advantage of performing this change during shift change stops, which are usually 30 min., without the need stopping specifically to perform this operation.
No specific training has been necessary for maintenance operators.
The locking system used in the intermediates and teeth allows insertion of the pin practically by pushing it by hand. Removal is just as easy, just turning the pin 90 degrees with a wrench and removing it. All pins are reusable several times. All components are made of metal, which makes the system particularly suitable for work in high temperature applications without the need to use other options for locking.
The lip shroud locking system keeps tension on the shroud against the lip throughout its life, distributing the impact received on the entire front surface of the lip, and thus achieving that plastic deformation of the lip is almost non-existent, eliminating this operation from the regular maintenance of the lip with the associated costs and risks of welding.
The internal shape of Twinmet teeth and intermediates is completely symmetrical and therefore reversible. This allows the elements to be rotated during their life to optimise their use, especially in corner positions, thus prolonging their life and optimising the wear profile.
After this success in Ponferrada, MTG went a step further with its objective of providing integral solutions for wear parts for the complete protection of the bucket in all kinds of mining applications presenting, in Las Vegas, the first Cast Lip System designed entirely by MTG for hydraulic excavators over 350 t.
The 169 in., six-position, lip stands out for its optimum design, which favours weight reduction and, along with the different areas that have been optimised in all sections, ensures high penetration while maximising reliability. MTG's Cast Lip system incorporates new MTG Systems TwinMet and Promet T protection systems.
MTG Systems TwinMet is an innovative hammerless tooth-adapter-nose locking system that is made up of three components: tooth, intermediate adapter and nose welded or fused to the lip. The reinforced nose adds extra robustness and greater resistance in maximum tension areas. In addition, the hammerless locking system used in the different parts provides the user with an efficient, fast and safe system for replacing parts.
Read the article online at: https://www.worldcoal.com/product-news/30012017/mtg-to-tackle-blade-shroud-loss/
You might also like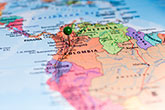 Benjamin Hill has entered into a nonbinding letter of intent with Aion to acquire interest in a Colombia coal project.