---
Caterpillar Mining is set to contribute to the virtual MINEXCHANGE 2021 SME Annual Conference & Expo as a sponsor, by presenting multiple technical sessions and developing a virtual exhibit loaded with its latest videos, webinars, demonstrations and more.
A long-time supporter of SME, Caterpillar and its dealer, Wagner Cat, are primary sponsors of the MINEXCHANGE, which brings together the brightest minds in the mining industry to discuss critical topics and trends. This year's conference has moved online from 1 – 5 March 2021, offering unprecedented flexibility for participants to attend and engage.
"Whether in-person or virtual, MINEXCHANGE is a critical opportunity for the industry to gather and exchange ideas and experiences to advance the best practices for mining operations," said Marc Cameron, Vice President, Resource Industries, Caterpillar. "We value our strong supporting partnership with SME and its members and are excited for this opportunity to show customers how working together, we are mining better."
Diving deep into topics to help mines improve efficiencies, optimise machine performance and advance automation, Caterpillar Mining subject matter experts will present five papers from the Mining & Exploration: Operations/Technology categories. The topics include:
A basic perspective on mining & quarry efficiency, presented by John Petrea. A presentation of how the application of proven methods, metrics and analysis can yield big results for operations.
Reducing uncertainty, sustaining improvements: Caterpillar Mining Performance Solutions, presented by Metin Yildrim. An overview of how the Caterpillar Mining Performance Solutions team consults with customers to provide visibility to variability and implement projects and programmes to reduce it.
High altitude production study with a Cat® 797F 400-t haul truck, presented by Antonio Varela. A presentation about a high-altitude application in Peru, and how an ambitious production study confirmed the performance advantage of high-altitude hauling equipment.
Mining in a pandemic, presented by Jacob Yeung. A presentation about how the ability to operate autonomously helped mines remain productive when the COVID-19 pandemic shut down in-person operations and shifted toward more remote working capabilities.
Anthropogenic autonomy: the human aspects of mining automation, presented by Chelsea Gilbert. A look at the human element of autonomous mining, with insight into how well-trained people and efficient processes are essential contributors to the successful implementation of autonomous solutions.
Caterpillar Mining's 2021 SME MINEXCHANGE virtual exhibit is designed around the guiding principle of 'Together, We're Mining Better.' Through videos, articles, demonstrations, product information and other relevant content, the company will tell the story of how the combination of people, equipment, technology, services and solutions allow Caterpillar and its mining customers to mine better together.
The virtual Caterpillar Mining exhibit features two education and training webinars that cover two quite different aspects of mining operations:
Mining equipment repair options: component and machine rebuilds, which highlights Caterpillar and Cat dealer services.
Understanding the journey to autonomous hauling, which features Cat MineStarTM Command for hauling.
Read the article online at: https://www.worldcoal.com/product-news/25022021/caterpillar-mining-to-present-at-smes-minexchange/
You might also like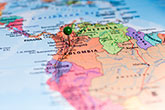 Benjamin Hill has entered into a nonbinding letter of intent with Aion to acquire interest in a Colombia coal project.