---
Building on the solid legacy of the MD6420C, the new Cat® MD6310 blasthole drill offers substantial technology, efficiency and productivity improvements. A key advantage of the machine, Cat electronics deliver advanced troubleshooting for efficient drill operation and scalable automation. The building blocks include drill assist, semi-autonomous and remote control operation, and machine health reporting to improve drilling accuracy, reduce fuel consumption and lower total cost of ownership.
Ideal for 12 m and 15 m bench heights, the new MD6310 is application-built for efficient single pass drilling down to 13.7 m (44.9 ft) or 17.5 m (57.4 ft), depending on mast configuration. Offering up to 30° angle holes for cast blasting, it is ideal for numerous mining applications. Reaching deeper hole depths than the MD6420C, the MD6310 better matches specific drill-and-blast requirements when working with electric rope shovels or other loading tools that require a tall and steep muck pile. Standard on the MD6310 is a drill depth indicator, auto level/retract and auto mast, all of which contribute to efficient cycle times.
Technology improves drilling accuracy
Cat Command for drilling leverages remote and autonomous drill operation and serves as the off-board technology foundation of the drill. Scalable solutions allow customers to select the precise level of drilling automation to match operating needs. The Drill Assist option executes all major functions for single pass drilling. Drill Assist automatically adapts and adjusts drill power to match the ground conditions, which streamlines the entire drill cycle and lengthens bit life.
Cat Terrain for drilling guides the drill for up to four times greater pattern accuracy to ensure every hole is accurately placed and drilled to plan. The Terrain logging function ensures all production is timed, mapped and recorded, and the HP GPS navigation ensures accurate hole placement, proper hole depth calculated and adjusted based on altitude, and proper hole angle through orienting the drill heading and position.
The MD6310 offers semi-autonomous drilling of single row missions and remote control operation for remote operation missions. One remote operator station allows an operator to manage drill operations and run up to three machines simultaneously.
Standard Cat Product Link™ hardware provides machine health and drill data. VisionLink® provides users secure access to customisable reports and mapping, giving users equipment data critical for better fleet management.
Efficient drilling performance
Offering superior performance in DTH and rotary drilling in soft, medium and hard rock applications, the versatile MD6310 drills up to 311mm (12.25 in.) hole diameters. When equipped with the 13.7 m (44.9 ft) mast, it delivers up to 289.13 kN (65 000 lb) pull-down and hoist capacity to drill hole depths reaching 62.5 m (205 ft). The 17.5 m (57.4 ft) mast delivers up to 382.5 kN (86 000 lb) pull-down and hoist capacity for drilling hole depths down to 48 m (157.5 ft).
The flexible MD6310 features angle drilling to 30 degrees from vertical in 5-degree increments. With its 14-degree approach angle for easy ramp access and loading, the drill boasts a rugged Cat excavator-type undercarriage equipped with either 600 mm (23.6 in) triple grousers for hard rock applications or 750 mm (29.5 in) triple grousers for working in soft rock. In addition, three-point oscillating suspension reduces the transfer of excessive torsional forces to the main frame.
Built for a variety of extremes, the new MD6310 delivers reliable operation at elevations as high as 4 750 m (15 000 ft) and subzero temperatures reaching -40° C (-40° F), when equipped with a cold weather package. It is powered by a Cat C32 ACERT™ Tier 4 Final engine that produces 760 kW (1018 hp) at 1800 rpm, or a Tier 2 equivalent engine producing 770 kW (1032 hp) at 1800 rpm. A true global machine, the new MD6310 is CE compliant, EAEU certifiable, CSA certifiable, and MDG15 / MDG41 aligned.
Variable air control and dust collection
The MD6310 compressors feature variable air control that can be adjusted to 50% less volume to meet application requirements. Air flow modulation, load sensing hydraulics, and on-demand cooling fan improve fuel efficiency. A 42.2 m3/min. (1,500 ft3/min) @ 34.4 bar (500 psi) compressor is available for DTH drilling, while rotary drilling compressor choices include units offering 56.6 m3/min (2,000 ft3/min) @ 8.6 bar (125 psi) or 73.6 m3/min (2600 ft3/min.) @ 7.6 bar (110 psi).
Water injection with tank capacity of 1514 L (400 gal.) is standard on the MD6310 and is integral to Drill Assist for collaring the hole and dust suppression while drilling. A high-volume water injection system is available with additional tank for total capacity 3785 L (1000 gal.). A 7200 cfm dry dust collector with self-purging filters and dust chute with a clean-out door is optional. Standard static dust curtains on all four machine sides contain cuttings and dust, while hydraulically actuated dust curtain lifters for front and rear are available options.
Operating comfort and safety
The new FOPS cab offers 2.8 m2 (30.1 ft2) of floor space and rubber shock-mounts to absorb mechanical drilling vibration. Joystick controls for all drilling functions and dual 254 mm (10 in) colour touch screen displays improve operator productivity. A roof mounted HVAC system reliably provides clean air and efficiently cools or heats the cab.
Multiple cameras provide a full view of the pipe rack carousel/top drive operation and a 360° view from the operator's seat to improve safety. The full-length driller window offers unobstructed view of the drill deck, while large cab windows surround the operator to improve work area visibility for safe machine movement.
A new variable grip hydraulic break-out wrench, with additional clamping and break out force, delivers hands-free pipe and bit changes from within the cab. For added protection, the machine features over 40 safety and conditional lock outs and warnings.
Read the article online at: https://www.worldcoal.com/product-news/19072017/new-blasthole-drill-from-caterpillar/
You might also like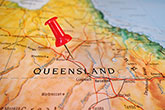 CIMIC Group's minerals processing company, Sedgman, has secured an operations and maintenance contract in the Bowen Basin, Queensland, from Pembroke Resources.