---
Three separate groups have filed petitions to stay the implementation of the Clean Power Plan with the US Supreme Court while it is under judicial review. The groups – representing US states, utilities and trade associations – ask the Supreme Court to put the plan on hold after the lower court currently reviewing the plan, the US Court of Appeals for the DC Circuit, refused to.
"Without Supreme Court intervention, West Virginia and other states will suffer irreparable harm as job creators and state agencies spend untold resources to comply with a rule that is likely to be struck down as illegal," said West Virginia Attorney General, Patrick Morrisey, who is heading the states' bid with his Texan counterpart, Ken Paxton.
The US Chamber of Commerce, joined by 15 other trade associations representing the manufacturing, oil and gas, coal, iron and steel, brick and cement industries, among others, filed a similar motion to stay "before the […] unprecedented rule can cause more harm to the business community."
"The impact of this rule on the economy cannot be overstated," said Karen Harbert, President and CEO of the US Chamber of Commerce's Institute for 21st Century Energy. "The rule causes many businesses in the electricity sector and beyond to radically restructure or even close their doors, setting off a domino effect in local communities across the country."
The stay applications were filed with Chief Justice of the Supreme Court, John Roberts, who handles emergency legal matter from the DC Circuit. He may decide the matter himself or take the matter to the full court, according to SCOUSblog. The administration and EPA will now have the option of answering the stay application before the Chief Justice or full court acts.
Edited by Jonathan Rowland.
Read the article online at: https://www.worldcoal.com/power/28012016/motions-to-stay-cpp-lodged-with-supreme-court-2016-132/
You might also like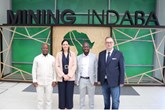 Continuing a spate of new global enrolments, the World Coal Association (WCA) has welcomed South African mining investor, Menar, to its roster of progressive coal members.