China's March power generation sees 5.4% increase on previous year
Published by Claire Cuddihy, Assistant Editor
World Coal,
---
China generated 569.8 TWh of electricity in March, up 5.4% from a year earlier, showed data from the National Bureau of Statistics (NBS) on 17 April. The growth rate was 2.5% higher than in January-February, said the NBS, which typically publishes the data of January and February together to avoid impact of the Lunar New Year.
Clean power generation like hydro, nuclear, wind and solar had a higher growth rate than a year ago, while the growth of thermal power generation slowed down, the NBS said.
In March, hydropower generation was 80.9 TWh, jumping 22% y/y, the highest growth rate since March 2016, as water inflows were abundant in the southern region.
With new reactors put into operation, nuclear power generation reached 28.7 TWh, surging 31.7%, about 8.7% more than January - February period. Wind generation totalled 34.2 TWh, rising 8.2% y/y, compared to a decline of 0.6% in the first two months. Solar power was 10.1 TWh, up 12.9% y/y, 9.1% higher than January - February.
Thermal power, mainly coal-fired power, posed a 1% increase y/y to 416 TWh, down 0.7% from January - February.
In the first quarter, clean energy's proportion in total electricity output rose 1.5% from the same period of a year earlier, the NBS said.
In the first quarter, the power generation totalled 1674.7 TWh, a 4.2% increase year-on-year, compared with the growth of 8% in 1Q18.
Thermal power totalled 1265.8 TWh (2% y/y), hydro, nuclear, wind and solar were 2159 TWh (12% y/y), 77 TWh (26.1%), 91.6 TWh (2.2% y/y) and 24.4 TWh (8.6% y/y), respectively.
Read the article online at: https://www.worldcoal.com/power/24042019/chinas-march-power-generation-sees-54-increase-on-previous-year/
You might also like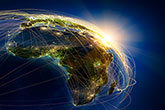 Contango Holdings Plc has advised that the production of washed coking coal has commenced at its flagship Lubu Coking Coal Project in Zimbabwe.