---
Zhejiang Feida MHPS High Efficiency Flue Gas Cleaning System Engineering Co. Ltd has completed retrofit project and begun operations for a flue gas treatment system for Huadian Zouxian Power Co. Ltd. The construction work was the first such order received by FMH and was completed in a short delivery time of seven months.
The work involved modifications and additions to equipment such as electrostatic precipitator (ESP), flue gas desulfurisation (FGD) and gas gas heaters (GGH) at the Unit 8 (1 gigawatt) of the Huadian Zouxian Power Plant in Shandong Province. This will remove sulfur dioxide and dust contained in the boiler exhaust gas and also reduce concentrations. Prior to the start of operations, the system successfully completed 168 hours of continuous trial runs, as required under Chinese regulations. By raising the desulfurisation rate to 98.8% and reducing the stack inlet dust concentration to about one-fifth of the previous level, the latest Chinese environmental regulatory requirements, especially more strict requirement named "almost zero emission requirement" for big cities, have been met, achieving significant reductions in environmental load. Huadian Zuoxian Power Co. Ltd has also highly evaluated the system.
FMH is a joint venture company between MHPS and Zhejiang Feida Environmental Science & Technology Co. Ltd and began operations in March 2015. It aims to expand sales of High Efficiency AQCS (Air Quality Control System) products, which remove soot and dust such as PM 2.5, throughout China, utilising technology from its parent companies.
MHPS offers AQCS products, such as selective catalytic NOx reduction (SCR), desulfurisation equipment, electrostatic precipitators, GGH heat recovery equipment, GGH re-heaters and mercury removal equipment, etc. which clean flue gases discharged from coal-fired power plants. The company is unparalleled in the world in its ability to propose "one stop solutions" through these offerings.
MHPS will continue to contribute to the reduction of environmental impacts in China by fully supporting FMH's business development.
Read the article online at: https://www.worldcoal.com/power/22112016/operations-begin-at-china-huadian-zouxian-plant/
You might also like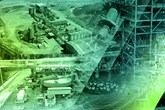 DRA Global has secured the contract for a major design package for Whitehaven Coal's Vickery Extension Project located in New South Wales, Australia.