---
For more than seven decades, scientists and engineers have been at work in a sprawling US Department of Energy fossil energy research facility called the National Energy Technology Laboratory (NETL) in Morgantown, WV, developing innovations that produce power, fuels and chemicals from coal, oil and natural gas.
The current generation of NETL energy researchers are discovering, refining and disseminating technologies that embrace both the abundance of fossil fuels and the requirements and opportunities of a changing world. The work falls under one of NETL's core capabilities—energy conversion engineering. Energy conversion is the process of changing one form of energy to another. For example, energy conversion is used to change the chemical energy in coal or natural gas to thermal and mechanical energy through a turbine engine and ultimately converted to electrical energy.
"Near-term, we focus on improving existing coal or natural gas power plants to make them more efficient," he said. "That includes work like improving power plant turbine blades, developing better sensors and control systems and investigating how advanced manufacturing approaches can help create components that make power plants more efficient and productive. The benefit is that we get more energy out of our coal or natural gas, thereby extending our natural resources, reducing emissions and reducing dependence on foreign sources of energy feedstocks."
Past successes in the near-term category include technologies that successfully reduced acid rain, which are now in use in nearly all coal-burning power plants, and the development of advanced, low-emission, high-efficiency gas turbine technology, now widely deployed for power generation.
In the long-term, NETL's energy conversion engineering efforts are developing a spectrum of innovative technologies, including high-efficiency, long-life fuel cells; modular coal conversion that could also use renewable biomass or waste fuels to produce energy and, more recently, the ability to harness the promise of geothermal energy. Geothermal energy could be used to heat commercial office complexes and military installations with heat from deep within the earth. The West Virginia National Guard's training facility at Camp Dawson was the site of key work to explore geothermal energy possibilities.
In 2016, NETL investigated the geothermal potential for Camp Dawson, a state-owned, federally funded facility in Preston County that is located within a region where both geothermal and natural gas resources may be developed, possibly together. The technically accessible deep geothermal resources are thought to be suitable for direct-use applications such as facility heating and industrial processes in manufacturing. NETL concluded that there is a range of potential geothermal opportunities at Camp Dawson, but additional research is needed to determine costs and resource assessment.
According to Richards, the work was part of pioneering geothermal research that few other organisations are attempting.
"We are leading research into using one well to recover natural gas while incorporating a second passage at the well site that would simultaneously allow geothermal energy to be used locally as a steady supply of heat," he says. "Developing a combined geothermal and natural gas well together has never been done before, so we are trying to determine if it can be done technically and what it would cost."
NETL's talented and experienced researchers use a range of cutting-edge equipment to tackle their energy conversion engineering challenges, including a supercomputer and complex modelling devices, sophisticated sensors and multiphase flow science tools that show how liquids and gases mix and flow. Researchers also work to accelerate development of technologies by reducing the time, cost and technical risk associated with bringing advanced technologies from concept to market.
By conducting its own intense research programs and partnering with other researchers at higher education institutions like West Virginia University, NETL has created a long history of developing energy conversion systems that produce power, fuels and chemicals from coal and natural gas. That traditional role has been augmented by 21st century energy challenges that expanded the laboratory's research portfolio and keeps West Virginia on the cutting edge of energy innovation.
Read the article online at: https://www.worldcoal.com/power/06042017/blazing-a-trail/
You might also like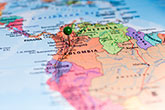 Benjamin Hill has entered into a nonbinding letter of intent with Aion to acquire interest in a Colombia coal project.