Carbon capture technology developers break ground at Wyoming ITC
Published by Will Owen, Editor
World Coal,
---
Two large carbon capture projects recently held a groundbreaking ceremony at the Wyoming Integrated Test Center (ITC).
Membrane Technology and Research will be utilising the ITC's large test bay as they begin their membrane carbon capture technology project that is part of the US Department of Energy's (DOE) large-scale pilot carbon capture programme.
Kawasaki Heavy Industries, and their partner Japan Carbon Frontier Organization, will be launching onsite activities for their solid sorbent capture technology. This project is commissioned by the Ministry of the Environment, Government of Japan (MOEJ).
These projects will join the ITC's project portfolio, which represents over US$100 million in carbon capture and carbon utilisation technology deployment, and will serve as a crucial step towards advancing these technologies to commercialisation.
Wyoming Governor Mark Gordon lauded both projects in his remarks at the groundbreaking ceremony:
"It is rewarding to see this next milestone in the development of carbon capture on a coal-fired plant and further fulfilment of the Integrated Test Center's mission. I am unwavering in my commitment to using the State of Wyoming's resources to ensure coal remains a viable, reliable fuel for the next generation through CO2 capture. Partnerships such as these with Japan and the DOE underscore the global leadership Wyoming has to offer regarding transitioning traditional energy development through the reduction of carbon emissions. This is a wonderful achievement and one worthy of celebration."
The ITC is a carbon capture and utilisation testing facility that is located at Basin Electric Power Cooperative's Dry Fork Station. Technology developers have access to scrubbed flue gas that would otherwise be released from the plant.
Todd Telesz, Basin Electric Power Cooperative's Chief Executive Officer, said:
"Basin Electric is proud to partner with the Integrated Test Center and CarbonSAFE project to advance carbon capture, utilisation, and storage efforts. We are excited to be a part of the pursuit to find a means of reducing carbon while continuing to use coal to power the economy. We are constantly looking for ways we can continue responsible operation of our units while ensuring the reliability our members expect. The ITC is one way of exploring this."
Jason Begger, managing director of the ITC, said:
"The ITC has been working with these two developers since 2019 as they have moved their projects toward large scale testing.
"Carbon capture will be absolutely essential to ensuring baseload power continues to be available to the grid. We are so excited for both MTR and KHI to move to the next phase of their technology advancement."
Brett Andrews, president, MTR Carbon Capture, said:
"Today's groundbreaking represents the culmination of 15 years of research, development, and testing to produce a remarkable clean capture technology.
"Once built, the 150 tpd large pilot will be the largest non-solvent based capture plant in the world, and it represents our final step toward commercial deployment. We are excited and truly appreciative of the support of the Department of Energy, the State of Wyoming, the ITC, and our project partners."
Osamu Tsukamoto, President of Japan Carbon Frontier Organization:
"In view of the cruciality of sustainable climate change actions and energy security, we shall focus on our efforts to promote zero CO2 emissions technologies for coal utilisation and not on coal phase-out. Establishment of CO2 separation and capture technology that enables coal use while addressing the global warming is extremely important to achieve both carbon neutrality and energy security. For this point of view, the project is becoming increasingly important."
Tomohiko Sugimoto, General Manager, Kawasaki Heavy Industries, added:
"This is a great opportunity for Kawasaki to participate in this project. We implement the demonstration test as a joint partner of Japan Carbon Frontier Organization and supply our own developed solid sorbents for such tests. Thanks for kind cooperation and support by the State of Wyoming, ITC and Basin Electric Power Cooperative, we believe that the demonstration tests will be implemented on schedule with successful results as planned, and wish to contribute to achieve the carbon neutral in the world by delivering our carbon capture system with own solid sorbents soon."
Read the article online at: https://www.worldcoal.com/power/02062023/carbon-capture-technology-developers-break-ground-at-wyoming-itc/
You might also like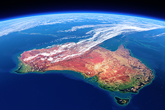 Simon Nicholas overviews a new report by IEEFA India and JMK Research and Analytics, which demonstrates why Australian metallurgical coal miners should not get overexcited by the outlook for exports to the subcontinent.