Preserving low-carbon energy in Illinois
---
A bipartisan group of legislators, along with business, labour and community leaders, has announced their support for legislation creating a state Low Carbon Portfolio Standard that establishes Illinois as a national leader in efforts to reduce carbon emissions with minimal consumer impacts.
Introduced in both the Senate as SB 1585 and the House as HB 3293, the legislation would help reduce carbon emissions, increase renewable energy and maintain affordable, reliable electricity for consumers and businesses. In addition, the measure will ensure continued operations of the state's nuclear power plants, which are responsible for nearly half of all electricity produced in Illinois. The market-based solution is modelled after findings from a recent HR 1146 report prepared for four state agencies that analysed the economic, environmental and reliability impacts of premature nuclear plant closures in Illinois.
Under the proposed legislation, certain electrical utilities would be required to purchase low-carbon energy credits to match 70% of electricity used on the distribution system from qualified sources, which include solar, wind, hydro, nuclear, tidal, eave and clean coal. The legislation includes safeguards to protect consumers similar to those for Illinois' other clean energy programs. For example, a consumer price cap would limit the impact to a 2.015% annual increase compared to 2009 rates, or approximately US$2/month for the average Illinois residential electricity customer, less than the increase customers would face if the nuclear plants close early. In addition, if wholesale electric prices exceed a certain level, any excess revenues would be rebated to all Illinois electric customers on their bills.
Senator Mattie Hunter commented: "Illinois needs an all-of-the-above energy strategy that will help reduce harmful air emissions, grow renewable energy and maintain our state's existing nuclear plants, which are our leading source of carbon-free energy. With a 70% carbon-free energy standard, this legislation would make Illinois the national leader in ensuring a clean energy future – even ahead of other environmental leaders like California".
"This comprehensive legislation balances the need to preserve our nuclear power plants while at the same time promoting other low-carbon energy resources such as wind, solar, hydro and clean coal, among others", said Senator Sue Rezin. "The Low Carbon Portfolio Standard does not pick energy winners and losers. It rewards all low-carbon energy sources – including wind, solar and nuclear – equally through a competitive market".
The US Environmental Protection Agency's proposed Clean Power Plan will require all states to reduce carbon emissions from existing power plants. Illinois is tasked with reducing carbon emissions from existing power plants by 30% from 2005 levels by the year 2030 and must have a plan in place to achieve these reductions by 2017. The legislation includes a provision that the program will end on the later of 31 December 2021, or when Illinois implements a program to comply with the EPA's Clean Power Plan.
"This legislation will help ensure Illinois have the low-carbon energy sources it will need to meet its obligations under the US EPA's Clean Power Plan", said Representative Larry Walsh. "There is simply no way Illinois will achieve meaningful carbon reductions and meet EPA goals without preserving our current nuclear fleet".
"Through this legislation, we will continue our state's position as a clean energy leader, preserve thousands of jobs and drive economic development", said Representation Mike Tryon. "Once enacted, this bill will help is secure our economy today and in the future, while maintaining important consumer protections for the benefit of all Illinois families and businesses".
Adapted from a press release by Emma McAleavey.
Read the article online at: https://www.worldcoal.com/power/02032015/low-carbon-portfolio-standard-1987/
You might also like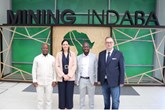 Continuing a spate of new global enrolments, the World Coal Association (WCA) has welcomed South African mining investor, Menar, to its roster of progressive coal members.