---
CarbonChain, a UK government backed software as a service company that helps companies automate the accounting of the carbon emissions in their supply chain, has secured investment from the San Francisco based venture capital fund, Y Combinator.
Established in 2017, CarbonChain has a mission to make 'supply chains green.' The company's products enable companies in some of the most polluting industries, such as oil and gas, mining, agriculture and logistics, to measure and reduce greenhouse gas emissions.
A distinguished product of the London Business School's (LBS) Institute of Innovation and Entrepreneurship's Incubator programme, CarbonChain was co-founded by Adam Hearne, CEO, and Roheet Shah, COO, along with Imperial College computer scientists Yury Oparin, CTO, and Jeremiah Smith, PhD, CPO. Together, the team possess deep expertise across a wide spectrum of commodities industries, supply chain management, and software development.
Both acknowledge the support of LBS in the rapid success of CarbonChain, and that Y Combinator' investment is now another important milestone for the company. With an acceptance rate below 2%, Y Combinator's accelerator programme has been described as "harder to get into than Harvard" by Business Insider. Notable companies that have gone through Y Combinator include AirBnB, Dropbox, and Stripe. Y Combinator has created a new model for funding early stage start-ups and biannual invests money in start-ups.
CarbonChain is an accredited solutions provider of the Carbon Disclosure Project, and a proud member of ResponsibleSteelTM, a not-for-profit organisation which is the steel industry's first global multi-stakeholder standard and certification programme. The UK government's innovation arm, InnovateUK, has supported CarbonChain in developing its technology via £460 000 in grant funding.
Companies work with CarbonChain to automate the accounting of their supply chain carbon emissions to: access cheaper, greener financing; avoid financial penalties, and track internal sustainability KPIs.
"Disruption and 'supply shock' is coming for companies that do not factor in the rising price of carbon. The price of carbon is going from the global average of US$2/t right now to the anticipated US$100/t in 2030," said Shah. "This is where CarbonChain comes in. Our accounting platform can extract data from standard supply chain documents, and generate a comprehensive carbon emissions report for the end-to-end supply chain."
The CarbonChain founders discovered the need for supply chain carbon emissions accounting in oil and gas and mining while working for BCG and Rio Tinto. CarbonChain has built models for every single asset in the supply chain for these primary industries, creating digital twins of every piece of equipment used in heavy industry. If CarbonChain is unable to obtain the information about the equipment from the companies that use its services, they then go to the engineering firms that built the equipment or facility for the company.
"Transparent supply chains are the hallmark of sustainable businesses, and the objective of CarbonChain is to assist corporations and governments alike to take a proactive step in carbon reporting so they can work together and make large scale reductions in CO2 emissions year after year," added Hearne.
Read the article online at: https://www.worldcoal.com/mining/28082020/lbs-start-up-secures-investment/
You might also like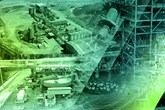 DRA Global has secured the contract for a major design package for Whitehaven Coal's Vickery Extension Project located in New South Wales, Australia.