---
Record production for the nine month period achieved at Western Australia Iron Ore (WAIO) and five Queensland coal mines.
Following 44 days of industrial action at Escondida, copper production guidance reduced to between 1.33 and 1.36 milion t. The commissioning of the Escondida Water Supply project and the planned ramp-up of the Los Colorados Extension project are now expected in the September 2017 quarter.
As a result of damage to third party rail infrastructure caused by Cyclone Debbie, metallurgical coal production guidance reduced to between 39 and 41 million t.
Full year production guidance maintained for petroleum and energy coal. WAIO production guidance narrowed to between 268 and 272 million t (100% basis).
At Queensland Coal, the high-return Caval Ridge Southern Circuit latent capacity project was approved and will enable full utilisation of the 10 million tpy wash-plant with ramp-up early in the 2019 financial year.
In onshore US, development activity is increasing with the approval of two additional rigs in the Haynesville, with gas prices hedged to deliver attractive rates of return.
Divestment of non-core Onshore US acreage is progressing, with the sales process well advanced for up to 50 000 acres of the southern Hawkville. Our Fayetteville field is currently under review and we are considering all options including divestment.
The Mad Dog Phase 2 Conventional oil development project was approved and a contract was executed with PEMEX Exploration and Production Mexico (Pemex) following the winning bid to acquire a 60% participating interest in, and operatorship of, Trion in Mexico.
Commercial evaluation of the LeClerc gas discovery in Trinidad and Tobago is ongoing. Drilling of the Wildling appraisal well in the Gulf of Mexico is continuing, which will assist with establishing the scale of the Caicos oil discovery.

BHP Billiton Chief Executive Officer, Andrew Mackenzie said: "Everything we do at BHP Billiton is designed to create value for all of our shareholders, today and for the long term. We have fundamentally restructured BHP Billiton to increase returns. The demerger of South32 and US$7 billion of divestments has reduced the number of assets in the portfolio by over a third and our new organisational structure has removed layers of management.

Our more focused portfolio has enabled us to lower unit costs by over 40%. And we have improved our approach to capital management which has strengthened the balance sheet and increased the discipline with which we invest and return cash to our shareholders.But we have more to do and we are not standing still. A simpler portfolio allows us to improve safety and operational performance more quickly with maintenance, project and geoscience centres of excellence spreading petroleum and minerals expertise across the group. We have significantly reduced the capital intensity of our growth options and changed our approach in shale to improve returns and lower risks on new investments.

Our more focused approach in exploration is delivering results with three discoveries over the last 12 months and our new technology function will unlock further value. This quarter we have added value to the portfolio across each of our six focus areas. We continued our targeted high-return investment in shale with the approval of two more rigs in the Haynesville supported by our hedging strategy.

Plans to monetise a portion of our non-core acreage for value, such as parts of the southern Hawkville, are underway. In the Eagle Ford, we are increasing recoveries by testing staggered wells and larger frack jobs. In the Permian, we are exploring opportunities to consolidate and optimise our acreage position so that we can drill longer lateral wells to lower costs. We have approved the Mad Dog Phase 2 project and investment in Caval Ridge to enable full utilisation of its 10 million tpy wash-plant.
Read the article online at: https://www.worldcoal.com/mining/26042017/bhp-billiton-achieves-record-iron-ore-production/
You might also like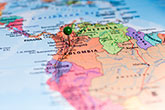 Benjamin Hill has entered into a nonbinding letter of intent with Aion to acquire interest in a Colombia coal project.