---
South Africa's sole producer of prime anthracite, Zululand Anthracite Colliery (ZAC), has appointed Siyabonga Mathonsi as its first black general manager since mining operations began in 1987.
Menar, the mining investment company that acquired ZAC from Rio Tinto in 2016 and turned it to profitability, has announced Mathonsi's appointment effective from 15 July 2019.
Menar's Managing Director Vuslat Bayoglu says Mathonsi is a hard-working professional who worked himself up the management ladder of the mine.
Bayoglu stated: "The appointment is a clear demonstration that, with adequate training and experience, coupled with the commitment to redressing the legacy of apartheid, substantive transformation is achievable. Menar is committed to ensuring that all employees of its subsidiary companies regardless of their background realise their potential."
Following a smooth handover period, Bradley Hammond, the outgoing general manager, will take over a new role as group chief operating officer at Menar.
Mathonsi's career at ZAC began in 2008, when he served as an engineer-in-training. His commitment to his work saw him rise through the ranks. In 2010, he was promoted to a junior engineer. In 2015, he was appointed as a section engineer. In 2016, he became Engineering Manager until the announcement of his recent promotion.
Bayoglu says Mathonsi has played an important role in the turn-around of the mine while serving as a second in command to Hammond, the outgoing manger. "They worked as a team. Siyabonga is a team player with excellent human relations skills. We look forward to seeing him and the team drive the extension of the life of mine beyond the projected 12 years," Bayoglu adds.
Mathonsi is looking forward to his new challenge and undertakes to lead by example.
"I believe it is important to show strong leadership through leading by example. I look forward to taking on this exciting new position. I am truly humbled to have been appointed as General Manager at ZAC, and thank the company's management team for believing in and supporting me throughout this journey," Mathonsi states.
He hopes to build on the strong base that has been established already to ensure that ZAC achieves optimal efficiency, continues to build strong ties with workers and the host communities. In addition to ensuring that the mine's primary goal of keeping workers safe and healthy is achieved, he wants to ensure that the mine grows and builds sound relationships with host communities.
Located in the district of Ulundi, ZAC has six underground sections and produces 1 million tpy of anthracite. It has processing plant onsite where the product is washed to top qualities of 0.9% to 1.4% Sulfur with extremely low ash content ranging from 8.5% to 18%. The product is sold to domestic and export markets.
Until Menar acquired ZAC in 2016, the mine was at different stages owned by BHP Billiton (from 1985), Riversdale Mining (from 2005) and Rio Tinto (from 2011). The mine currently employs 1444, including contractors, and it subscribes to the Youth Employment Service, President Cyril Ramaphosa's job creation initiative for young people. At least 30 young people are currently enrolled in the programme at ZAC.
Hammond states: "I have had the privilege of working closely with Siyabonga for several years. He is respected by management and mineworkers alike, making him the ideal person for the position of general manager of ZAC. I wish him much success in his new role and I have no doubts that he will play a critical role in the growth of ZAC, which is extremely important for future of the mine to provide jobs and play a crucial role in community development."
Read the article online at: https://www.worldcoal.com/mining/16082019/zululand-anthracite-colliery-appoints-first-black-general-manager/
You might also like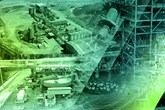 DRA Global has secured the contract for a major design package for Whitehaven Coal's Vickery Extension Project located in New South Wales, Australia.