---
JSWSA has announced that its Budryk mine has returned to selling coal during only one shift, due to selling out existing inventories in the Orzech (Nut) range.
Currently, sales will be conducted on the basis of current production; i.e. 180 tpd.
The sale will take place from 6:30 am to 2:30 pm. However, this is not the end of the changes. The mine is also discontinuing the issuance of numbers.
So far, more than 3000 numbers have been issued and, as a result, the waiting time for coal pickup has extended to the end of December. After serving the customers who already have been issued with numbers, the mine will resume issuing them. The other conditions for the purchase of coal for all those who have previously received numbers remain unchanged.
Purchases are made directly at the Budryk mine in Ornontowice. A driver whose details are provided during prior registration arrives to pick up the ordered coal. The vehicle enters the weighbridge, where the documents are issued and payment is made. The payment can be made in cash or by instant transfer.
Read the article online at: https://www.worldcoal.com/mining/12092022/coal-sales-resume-at-jswsas-budryk-mine/
You might also like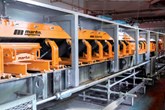 A global leader in bulk handling accessories and safety, Martin Engineering, is expanding its presence in the Asian Pacific market by opening a business unit in Malaysia.