Shareholders to pay the price for poor risk management
Published by Angharad Lock, Digital Assistant Editor
World Coal,
---
After the community, shareholders ultimately pay the price when mining organisations do not employ adequate risk management strategies. EnviroSuite has observed current trends in operational risk management, where a delicate balance is required to achieve efficient cost control while ensuring that risks are managed appropriately.
The international technology provider says that failure to effectively plan ahead and monitor risks at mining operations can lead to significant costs for mining companies due to an increase in accidents and adverse events, significant non-compliance costs and community action.
Recent mining incidents have damaged corporate reputations and have also negatively influenced the perception of the mining sector in the global community. This extends the problem from the level of any individual company to the wider mining and resources industry in general.
EnviroSuite says to avoid these risks mining organisations need to embrace new technologies that can help insulate them and their shareholders from potentially significant and unfortunate incidents, large fines and damage to reputation.
Matt Scholl, VP & General Manager - Americas at EnviroSuite, said: "The mining sector is experiencing more pressure on their social license to operate than ever before. The expectation on miners to run sustainable operations without impacting their neighbouring communities has seen the industry come under public scrutiny. Investors in mining are wary of increasing costs aimed at managing regulatory and compliance matters, yet many of these compliance requirements are outdated and do little to manage risks in the operational setting."
Scholl says: "It is clear that the mining industry needs to continually improve its approach to operational risk management. This will be achieved with the support of new technologies and proactive management techniques that use real-time and advanced forecasting information to identify potential problems with enough lead time so that risks are minimised or prevented altogether."
"We work with some of the world's largest mining companies at operations around the globe. We have seen how site monitoring and reporting can be costly yet ineffective at managing the real issues facing mining."
"Often traditional approaches only provide a snapshot of what's happening now. We developed EnviroSuite to provide information that enables mining operators to keep a finger on the pulse of current activities and anticipate what could happen in the future."
"These real-time and predictive capabilities are central to EnviroSuite's proactive management approach."
"Mining companies in some jurisdictions have negotiated better financial positions when it comes to the amount of bonds held by government for rehabilitation. Key to their negotiating power was their track record of good environmental management and the support of their community."
"Certainly the use of EnviroSuite at their operations has helped the mining company to demonstrate their ability to manage risks in real-time and supported their claim. Our technology provides site-specific real-time information about how a mine is currently interacting with its environment and also forecasts risks over a few days so that the operation always has advanced warning of what to expect."
"EnviroSuite brings new automated risk management capabilities to mining that will benefit communities, enhance the reputation of mining organisations and ultimately build shareholder confidence."
Read the article online at: https://www.worldcoal.com/mining/05042017/shareholders-to-the-price-for-poor-risk-management/
You might also like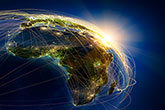 Contango Holdings Plc has advised that the production of washed coking coal has commenced at its flagship Lubu Coking Coal Project in Zimbabwe.