---
Published online as part of World Coal's Handling Week, Eric Yan, Eriez Flotation Division, and Jose Marin, Eriez Minerals and Materials Processing, USA, detail technology developments that can facilitate ways to minimise downtime, produce savings and expand capacity.
Today's mining operators strive to get maximum return from existing mines. In this challenging environment, mine management must consider methods to improve efficiency, increase productivity and obtain more from existing mines. Building new mines is not an option in most locations across the globe. The following outlines three trends that provide opportunities to increase profits, improve quality and maximise the return on investment (ROI) from the mine.

Figure 1. Double Team: a suspended magnet and metal detector offer the highest level of protection to conveyor belts and crushing equipment.
Using suspended magnets and metal detection to remove damaging tramp metal
Mine operators find they can eliminate plant downtime by properly installing suspended magnets in combination with metal detection equipment for removal of tramp metal. It has been proven that the combination of suspended magnets and metal detectors outperform the use of magnets alone. The reason for this is that not all tramp metal is ferrous.
Optimum protection
Pairing Eriez metal detectors with magnetic separators provides protection from tramp metal in heavy industry applications. Using the 'Double Team' approach ensures that ferrous and nonferrous tramp metal do not enter the processing stream and damage equipment downstream.
Neither a metal detector nor a magnetic separator is 100% effective in removing tramp metal on its own. The Double Team combination results in as close to a perfect product protection as possible.
Working in conjunction, the magnet removes the ferrous materials, while the metal detector focuses on any ferrous missed by the magnet, as well as nonferrous metal, e.g. aluminium, copper, brass stainless steel. There are many types of magnetic separators and metal detectors that work well together in heavy industry applications. Companies, such as Eriez, work with customers to design the ideal Double Team to meet their specific needs and requirements.

Figure 2. A properly installed wet drum starts with a uniform feed across the width of the feed box.
To avoid expensive equipment damage and costly downtime, it is important for mining operations to detect and eliminate foreign objects. Available in models to handle a wide range of applications, mining metal detectors detect both ferrous and nonferrous tramp metal in magnetic ores and highly mineralised products – even when conveyed on steel-corded belts.
From detecting medium and larger ferrous and nonferrous particles travelling at speeds of up to 1200 ft/min. (363 m/min.) to detecting small pieces of metal in wet conductive products, metal detectors provide a solution.
The detection system operates by measuring the change in received electromagnetic signal of material being conveyed through the sensor area. Since the magnetic properties of a material are completely independent of conductivity, both magnetic and nonmagnetic tramp metals are consistently detected. The combination of suspended magnets along with a metal detector provide mine operators additional assurances that neither ferrous nor nonferrous tramp metal is either separated or detected.
Applications of suspended magnetic separators
When addressing the magnetic collection of tramp metal, the suspended electromagnet (SE) is the industry workhorse. The SE magnet, providing tramp metal collection of conveyed materials, is a widely used magnetic separator. The electromagnet is mounted or suspended over a conveyor belt (Figure 1) to remove relatively large pieces of tramp metal that represent a potential hazard to downstream crushers, mills, pulverisers and grinders. The magnet can also be mounted over feeders or chutes.

Figure 3. A high-capacity flotation technology called StackCell® offers considerable savings for new installations and is ideal for expanding capacity in an existing plant.
Magnetic circuit design
There have been recent technological advancements in the design and modelling of magnetic circuits. The coil design and subsequent power draw are the two first order variables in the design of the electromagnet and the projected magnetic field. The coil must be sufficiently large in combination with minimised power to allow for convection cooling. Further, this design extends the life of the conductor insulation and subsequently the life of the electromagnet. The Eriez design minimises the coil to minimise the power required and the subsequent heat dissipation.
The SE magnet removes ferrous tramp metal from moving conveyors to protect downstream equipment, such as crushers, mills, shredders and presses. The largest market for SE magnets is in coal mining, hard rock mining and aggregate products, removing shovel teeth, cable, tools and bolting before crushing and grinding. A large piece of ferrous tramp metal, such as a shovel tooth or rail track, will not yield in a crusher and may damage the drive system. In the worst case, the crusher shaft is bent requiring complete replacement. Not only is this type of repair costly, it also results in significant downtime.
SE selection
The foremost factor in SE magnet selection is the burden depth of the material on the conveyor belt (note that the belt speed, belt width, capacity and bulk density all are factors in the material burden depth on the conveyor belt). The burden depth determines the suspension height of the magnet and consequently the effective magnetic field strength at the belt surface. Conveyor belt idlers elevate the edges of the belt forming a trough. The effect of idlers must be accounted for in the burden depth, which determines the suspension height of the magnet and consequently the effective magnetic field strength at the belt surface. Conveyor belt idlers elevate the edge of the belt forming a trough.
SEs are available in manual cleaning styles and self-cleaning styles. Manual cleaning magnets are best suited to applications where only small amounts of occasional pieces of tramp metal are present. The manual cleaning magnet must be periodically turned off in order to remove tramp iron accumulation from the magnet face.
Self-cleaning magnets employ a cross-belt running around the magnet face to provide continuous removal of collected tramp. When tramp metal is attracted to the magnet face, the cross-belt intercepts it and discharges it to the side away from the conveyor belt. The self-cleaning magnet is best suited to applications where a high level of tramp iron or large pieces of tramp iron is anticipated. A ? in. thick cross-belt is standard. The cross-belt is continuously driven around the magnet on a system of four pulleys driven with a small gear motor. Optional cross-belts using thicker ply belts or armour cladding is available for severe duty applications.
Optimising magnetite recovery in heavy media
Optimising magnetite recovery in the heavy media circuit needs properly-sized self-levelling wet drum separators (Figure 2) with agitating magnetic elements. The alternating polarity of agitating elements helps release non-magnetic materials, while obtaining the highest recovery possible. The self-levelling tank coupled with interpole magnetic elements provide optimal magnetite recovery. It is imperative to offer the best possible technology to the industry given its current state. Self-levelling wet drum separators produce more profits from operations.
The Eriez self-levelling wet drum magnetic separator represents the newest available technology. This separator combines the top engineering and operational features and provides excellent performance and easy operation, inspection and maintenance.
The concurrent and the conventional counter-rotation tanks have a full width overflow that must be maintained during operation. A deviation in the overflow level may result in inefficiencies in the operation. A new Eriez development is the counter-rotation self-levelling tank style. This tank has several attributes that provide operational advantages. Because it is self-levelling, there are no discharge spigots to adjust. It maintains constant tank level at any flow rate. The high-capacity tank design accommodates surges and fluctuations in the feed rate.
The self-levelling wet drums feature ease of operation, as well as a 950 gauss interpolate magnetic element, synchronous cog belt drive, greaseable bearings and an oversized feed box to contain surges and fluctuations in the feed rate.
In the past year, the popularity of the self-levelling wet drums has produced such a great demand for replacement drums that Eriez now offers multiple units for expedited delivery. The most typical drums for this application are the 36 in. and 48 in. models.
This is an excerpt from an article that was first published in World Coal October 2016. To register and receive your free trial of the magazine, click here.
Read the article online at: https://www.worldcoal.com/handling/30032017/minimising-downtime-maximising-efficiency/
You might also like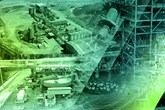 DRA Global has secured the contract for a major design package for Whitehaven Coal's Vickery Extension Project located in New South Wales, Australia.