Acrow Bridge provides structures for use in transporting coal ash
Published by Louise Mulhall, Editorial Assistant
World Coal,
---
Acrow Bridge, a leading international bridge engineering and supply company, has announced that it designed and provided two bridges to Duke Energy in North Carolina for the transport of coal ash from closed coal fire steam plants there to the final storage location at the Brickhaven Mine in Moncure, NC. The permanent structures, one a railroad bridge, the other a vehicular bridge, cross a stream near the Brickhaven facility.
Coal ash, or Coal Combustion Residuals (CCR), is created as a result of burning coal to produce electricity. A recent EPA rule has established technical requirements for CCR landfills in order to address the risks from coal ash disposal, such as the leaking of contaminants into ground water or blowing of the ash into the air as dust. The ruling also includes recordkeeping and reporting requirements as well as the requirement for each facility to establish and post specific information to a publicly accessible website.
In order to comply with the new rule, Duke Energy committed to closing all of its 60 coal ash plants and their coal ash basins. The Sutton Steam Plant in Wilmington, NC and the Riverbend Steam plant in Mt. Holly, NC are both being converted to combined-cycle plants, eliminating the need for coal to produce electricity. As a result of the conversions, Duke Energy is excavating the coal ash from the two plant sites and transporting it, primarily via rail car, to the Brickhaven Mine site, where it will be stored in a fully lined structural fill.
The railroad line carrying the CCR crosses a stream at the Brickhaven site, and a 40-foot-long truss panel bridge designed to Cooper E80 loading was selected. The vehicular structure is a 45 ft-long x 12-ft-wide beam bridge.
"This was a very satisfying project," said Will Smith, Southeast Regional Manager, Acrow Bridge. "There was an urgent need for these bridges and our design and materials delivery allowed for the installation of the structures within one month of the receipt of the contract."
Added Bill Killeen, President and CEO of Acrow Bridge:
"While there are a wide range of applications for our Acrow Bridges, the common denominator behind each order is a need for quick turnarounds that minimise delay and facilitate on-time and ahead-of-time outcomes to complicated projects."
The bridges were ordered by Charah, Inc. Smith-Rowe, LLC was contracted to install the abutments and assemble and install the bridges.
Read the article online at: https://www.worldcoal.com/handling/24012017/acrow-bridge-provides-structures-for-use-in-transporting-coal-ash/
You might also like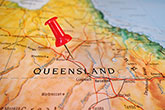 CIMIC Group's minerals processing company, Sedgman, has secured an operations and maintenance contract in the Bowen Basin, Queensland, from Pembroke Resources.