---
The boundaries of the water area of the checkpoint of the seaport of Shakhtersk, Russia, have been expanded in accordance with the Order of the Ministry of Transport of the Russian Federation No. 325 on 25 September 2020. The changes made will increase the port's throughput.
Based on the approved changes in the water area of the coal seaport of Shakhtersk, the coal terminal of the Eastern Mining Co., the number of berths for loading ships will increase from 5 – 8 units. Additionally, 7 anchorage points will begin to operate for ships awaiting loading.
The number of places for customs and border clearance of ships will more than triple. The customs point began to operate on the territory of the Shakhtersk Coal seaport last year under the regime of the Free Port of Vladivostok. After the order is put into effect, 15 courts will be able to process documents simultaneously. Thanks to the changes, all the necessary conditions for comfortable work have been created in the port of Shakhtersk: from paperwork to carrying out loading and unloading operations.
Also, in order to increase the volume of coal shipment, the Vostochnaya Mining Co. is implementing a major investment programme to modernise the port: technical re-equipment of the onshore facilities and the fleet. In order to optimise the production-shipping process, by the end of 2021 it is planned to launch a main coal conveyor with a length of 23 km, which will connect the Solntsevsky coal mine and the port of Shakhtersk. The whole range of activities is aimed at increasing the efficiency of off-road coal shipment up to 20 million tpy.
The coal seaport of Shakhtersk, located in the Uglegorsk District of the Sakhalin Region, is part of the Eastern Mining Co.. Being one of the key assets of VGK, the port is a sea coal terminal operating in the Free Port of Vladivostok mode. The coal seaport of Shakhtersk is the main supplier of coal to the countries of the Asia-Pacific region, shipping more than 70% of the products from the island annually. The capacity of the onshore transhipment complex is 10 000 tph. Cargo turnover in 2019 amounted to 8.8 million t of coal. By the end of 2020, it is planned to achieve a shipment volume of 10.6 million t. The port is implementing a road loading programme, which is unique for Russia. For its implementation, together with the Singaporean company RockTree, the company Rocktree VGK STV LLC was created.
Read the article online at: https://www.worldcoal.com/coal/29092020/seaport-of-shakhtersk-expands-boundaries/
You might also like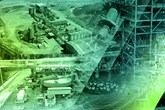 DRA Global has secured the contract for a major design package for Whitehaven Coal's Vickery Extension Project located in New South Wales, Australia.