---
Adani has welcomed the recently released economic report from Commodity Insights that demonstrates there is a strong demand for thermal coal in Asia and India over the next decade.
The report commissioned by the Minerals Council of Australia takes into consideration the impacts of COVID-19 and still projects thermal coal imports to the Asia Pacific region rising by 275 million t through to 2030.
CEO of Adani Mining, David Boshoff, said the report reflected Adani's own projections, especially for India, which is expected to see thermal coal imports grow by 74 million t through to 2030.
"India is one of the largest populations in the world and it is growing rapidly. Right now, more than 200 million people in India do not have adequate access to electricity and thermal coal imports will continue to rise in order to meet the demand of this growing population with economic ambition," Boshoff said.
Boshoff said that despite an expected increase in renewable energy use in India and Asia, there will still be demand for thermal coal to provide baseload power.
"As the world's number one international solar company and the largest private supplier of thermal electricity in India, the Adani Group has a unique view of the market and we see there will be a demand for both in the energy mix," he added.
Boshoff said Mercom Capital Group, a clean energy communications and research firm, recently named Adani Green Energy Ltd (AGEL) as the world's largest solar power generation owner based on operational, under construction and awarded projects.
"There is excellent work being done in India by Adani, especially to increase the use of renewable energy sources such as solar, however with population growth expected to increase by more than 280 million people over the next 30 years, thermal energy will still be required to meet demand," he said.
Boshoff said Adani's low cost, high quality Queensland coal was ideally positioned to meet this demand.
"The quality of our coal is better than that from most countries, which makes it suitable for the new generation coal-fired power plants of India and Asia that are more energy efficient.
"Furthermore, the reserves at Carmichael mine are shallow which means less overburden has to be removed and mining is relatively low-cost compared to other regions where the seams are further from the surface, ensuring the economics are good and we can be profitable through challenging economic cycles.
"We have more than 1500 people working on the Carmichael mine and rail project right now, with a significant amount of construction underway. We are well on our way to producing coal in 2021," Boshoff concluded.
Read the article online at: https://www.worldcoal.com/coal/28102020/thermal-coal-exports-on-the-rise-to-asia-and-india/
You might also like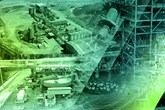 DRA Global has secured the contract for a major design package for Whitehaven Coal's Vickery Extension Project located in New South Wales, Australia.