---
On 19 August, the new 275 m stack of the Krasnoyarskaya CHPP-1, completed in 2020, was run for the first time. Alexander Uss, the Governor of the Krasnoyarsk Region, and Stepan Solzhenitsyn, CEO of SUEK, were witnesses to this event.
To date, three boilers have been connected to the new stack, and three more will be connected by the end of 2020. Commissioning and equipment setup will take another 30 days.
Three electrostatic precipitators are being installed at the plant. This new gas cleaning equipment will gradually replace the battery-operated cyclone collectors in use at the plant now. The first electrostatic precipitator will be commissioned this year. The final environmental impact shall be assessed after installing all 14 units.
Stepan Solzhenitsyn, CEO of SUEK, said: "As of the beginning of 2025, a quarter of the Krasnoyarsk plant's total emissions will stop polluting the air. We are talking about orders of magnitude less solid particles and ash in the atmosphere. From 500 down to 50 mg/m3 thanks to the electrostatic precipitators that will be installed. The height of the stacks is also vital, in terms of dispersing emissions and reducing their concentration. Dispersion by our old stacks 105 m high was, of course, less efficient. Ultimately, it is not the amount of emissions that is most important for the residents of Krasnoyarsk, but their concentration in the surface layer where we all live."
Already at the design stage, the stack included an automated emission control system at a height of 101 m. All outgoing gases will be monitored continuously for their composition and physical parameters. The monitoring system will start operation at the end of 2020, with emissions control according to 10 indicators.
Alexander Uss, Krasnoyarsk Region Governor, added: "Our goal is to make Krasnoyarsk a more comfortable and appealing city in terms of ecology. This task is difficult and time-consuming. However, every year we must yield solid and positive results. I am grateful to SUEK for having built this stack in a record time of 1.5 years, in line with our agreements. It is the largest of those built in recent times in the post-Soviet territory and in the top-10 tallest structures of this kind in our country. This is just one of the stages of a large environmental programme to be delivered until the end of 2024. Electrostatic precipitators will soon be put into operation, while all ineffective boiler houses will be shut down. Seven out of 35 have already been closed. I hope that this approach will be adopted by other companies as well. Nevertheless, improvements to the urban environment are not limited to the efforts of large companies; this is an extensive and complex work."
Read the article online at: https://www.worldcoal.com/coal/28082020/suek-to-reduce-particulate-matter-emissions-in-krasnoyarsk/
You might also like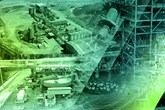 DRA Global has secured the contract for a major design package for Whitehaven Coal's Vickery Extension Project located in New South Wales, Australia.