---
According to Argus Media, Australian rail firm Aurizon is expecting its coal haulage volumes to be at the bottom of its forecast range of 210 – 220 million t in the 2017-18 fiscal year that ends on 30 June. In addition, the firm has warned that further headwinds could cut Australian coal exports in the next financial year.
Aurizon reduced its forecast from 215 million – 225 million t in February as a result of changes to its maintenance regime in Queensland, to compensate for lower regulator-approved revenues in its networks business. It expects these maintenance issues to continue to reduce the Queensland coal haulage network's capacity by 20 million tpy in 2019, with no negotiated settlement in sight.
The company is also facing the prospect of industrial action as it seeks to renegotiate enterprise agreements across its business in Queensland and New South Wales (NSW) this year. It is already dealing with the threat of protected industrial action from 33 train controllers; more unrest could follow as it seeks to slash wage increases in its enterprise agreements from 4%/y to 1 – 2%/y. Unions are also likely to be angered by a possible split of enterprise agreement for coal haulage operations from the rest of Aurizon's business.
While Aurizon is forecasting a 2%/y increase in Australian coal exports for the next decade, its ability to support this seems at risk from the potential industrial action and what some have seen as a less flexible maintenance regime that it has put in place in Queensland. The biggest impact from this is likely to be on smaller coal mining firms and new operations that have not yet secured rail access.
Aurizon has contracted volumes of 232 million t in 2017-18, rising to 246 million t next year and 253 million t in 2019-20. But it is unclear how it will be able to meet these increases, given the scenarios that it has outlined for 2018-19 and possibly 2019-20.
The change in the company's maintenance regime has yet to be reflected in the port shipping figures, but Aurizon maintains that stockpiles are rising at mines, reflecting lost shipping opportunities. It said 5 – 6 million t of potential coal shipments will have been disrupted by the maintenance regime between mid-February and the end of June. Some mines have begun curtailing production as the stockpiles have increased, Aurizon told investors today.
The company is lobbying to increase the regulator-approved revenues its network is allowed to earn, raising the possibility it may be talking up the disruption caused by its maintenance changes to put additional pressure on the regulator.
Total haulage across Aurizon's Queensland network by all rail operators was 116.6 million t in July - December, up from 112.9 million t a year earlier and 97.9 million t in January - July 2017, when Cyclone Debbie closed the Goonyella line for almost a month. The network has nominal capacity of 225 million tpy, but this could be cut by at least 20 million tpy to 205 million tpy if the regulator does not change its view on regulated returns, according to Aurizon.
Read the article online at: https://www.worldcoal.com/coal/27062018/aurizon-forecasts-fall-in-australian-coal-exports-in-next-financial-year/
You might also like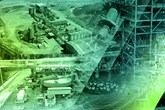 DRA Global has secured the contract for a major design package for Whitehaven Coal's Vickery Extension Project located in New South Wales, Australia.