Alliance Resource Partners releases financial results
Published by Angharad Lock, Digital Assistant Editor
World Coal,
---
Alliance Resource Partners L.P. has reported financial and operating results for 1Q16. Net income was US$47.3 million, or US$0.36 per basic and diluted limited partner unit. Total revenues were US$412.8 million in the 2016 Quarter compared to US$560.4 million in the 2015 Quarter, primarily resulting from planned reductions in coal sales and production volumes and lower other sales and operating revenues following our acquisition of the remaining equity interests in White Oak Resources LLC (White Oak) in July 2015. Lower revenues were offset in part by reduced operating expenses and equity in loss of affiliates related to White Oak and led to EBITDA of US$135.8 million for the 2016 Quarter, compared to US$192.2 million for the 2015 Quarter.
ARLP also announced that the Board of Directors of its managing general partner has decreased the quarterly cash distribution to unitholders for the 2016 Quarter to US$0.4375 per unit (an annualised rate of US$1.75 per unit), payable on 13 May 2016 to all unitholders of record as of the close of trading on 6 May 2016.
"ARLP's operating and financial performance for the 2016 Quarter was in line with our expectations as our results remained solid in the face of an extremely challenging coal market," said Joseph W. Craft III, President and Chief Executive Officer. "Although ARLP's performance continues to lead the industry and our balance sheet remains strong, we are unfortunately being impacted by the contagion caused by the financial struggles facing many of our competitors. In the current capital market environment, it has become clear that we must be proactive in preserving liquidity in order to maintain access to capital. The decision by our Board to reduce ARLP's unitholder distribution, while difficult, is a significant step toward maintaining that access."
Mr. Craft continued: "ARLP's guidance for 2016 distributable cash flow has not changed from our year-end earnings release. For unitholders, this new distribution level provides stability as it meaningfully improves ARLP's coverage to nearly 2.0x for the remaining three quarters of 2016 and an estimated 1.6x at the midpoint of current guidance for the 2016 calendar year. In the near term, we intend to use our excess cash flow to reduce indebtedness and further strengthen our balance sheet. Longer term, we are focused on growing our cash flows and returning to our past practice of steadily increasing distributions to our unitholders."
Coal sales revenues in the 2016 Quarter were US$401.3 million as compared to US$517.7 million for the 2015 Quarter primarily as a result of lower coal sales and production volumes due to idling our Onton and Gibson North mines in the Sequential Quarter, the planned depletion of reserves at our Elk Creek mine in the 2016 Quarter and reduced production at our River View, Pattiki, Warrior, Tunnel Ridge and MC Mining operations. Compared to the 2015 Quarter, these reductions were partially offset by volumes from the Hamilton mine acquired as part of the White Oak Acquisition discussed above. ARLP's coal sales revenue was also impacted by lower total average coal sales price realizations in the 2016 Quarter, which fell approximately 1.2% to $53.82 per ton sold compared to US$54.49 per ton sold for the 2015 Quarter.
Other sales and operating revenues were US$5.0 million in the 2016 Quarter compared to US$35.5 million for the 2015 Quarter due to the absence of coal royalty and surface facilities revenues from White Oak as discussed above and the receipt in the 2015 Quarter of certain customer payments in lieu of shipments related to an Appalachian coal sales contract.
Edited from press release by Angharad Lock
Read the article online at: https://www.worldcoal.com/coal/27042016/alliance-resource-partners-announces-operating-results-679/
You might also like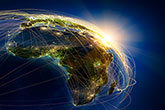 Contango Holdings Plc has advised that the production of washed coking coal has commenced at its flagship Lubu Coking Coal Project in Zimbabwe.