---
The construction of the modern RGEN switchyard has been completed in the Szczyglowice Section of JSW's Knurów-Szczyglowice mine, As a result, the mine can be powered with additional electricity produced in methane-fired generators.
Currently, there are two methane-powered generators operating in the Szczyglowice Section, and more will be added in the near future. When they are commissioned, the Szczyglowice Section will be supplied almost entirely with electricity produced from captured methane.
The new switchyard will make it possible to feed the electricity produced in the units to the mine's 6 kV medium voltage grid, and then transmit it to power any facility. In case of surplus of generated energy, the RGEN switchyard will support its distribution to other JSW plants.
This is the main, although not the only, reason for building a modern switchyard.
"Thanks to the new investment project, we were able to decommission four obsolete switchyards, whose tasks were taken over by the new RGEN switchyard. Replacement of the old, worn-out switchyards significantly improved work safety, as well as increased the reliability of power supply to the connected facilities," commented Krzysztof Dusza, the Manager of Szczyglowice Section's Power Engineering Department.
A modern structure using reliable components is an important feature of the new switchyard, which supplies power to the mine's critical facilities, such as the surface methane drainage station, the equipment of the mine's shaft hoists of Shafts I, II and III, the mine's control centre and gas control room, the telephone switchboard, the mining geophysics station, and nitrogen and carbon dioxide generators. In the future, the switchyard will also power the central air-conditioning installation planned to be built.
In the new switchyard building there are several switchboards: 54 field 6 kV, 42 outlet 500 V, 52 outlet 400 V, as well as a 110 V DC guaranteed voltage system and 12 transformers with the capacity ranging from 400 – 2000 kVA. As befits a modern switchyard, all parameters are continuously monitored by a modern grid control and supervision system.
"The electrician on duty, sitting in front of the screens, receives information about the operation of the entire system. In case of any disturbances, occurrence of undesired phenomena, he can react quickly by switching off or switching over the power supply to another grid element," added Mariusz Zuber, the Electrical Senior Foreman responsible for the project.
Despite the constraints associated with the COVID-19 pandemic, the switchyard was built in just two years. The cost of the investment project was nearly PLN 24 million.
Read the article online at: https://www.worldcoal.com/coal/27012022/modern-switchyard-prepared-for-electricity-from-methane/
You might also like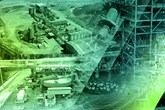 DRA Global has secured the contract for a major design package for Whitehaven Coal's Vickery Extension Project located in New South Wales, Australia.