---
Contango Holdings Plc, a London listed natural resource development company, has received the results from a set of sample analyses conducted by Bureau Veritas of South Africa. The analyses assessed a variety of metrics and properties derived from 49 samples extracted from the 1A Lower and MSU metallurgical seams at the Lubu Coal Project, located in the Hwange region of Zimbabwe, including ash, sulfur and phosphorous contents, as well as yield and calorific values.
Highlights
High-quality of Lubu coking coal confirmed by results from Bureau Veritas laboratory in South Africa.
Low Sulfur/high yields/swells/G-Index outline the attractive characteristics of the product.
Global coal prices and outlook outline the highly attractive economics of Lubu.
The results have exceeded the company's expectations and also confirmed the viability of Lubu's metallurgical coal in the production of coke, the key reactant and fuel in primary steelmaking.
Carl Esprey, CEO of Contango Holdings, said: "We are delighted with the results from this study, which have demonstrated the commercial characteristics of the metallurgical coal at Lubu, as well as its viability in the manufacture of coke.
"This positive news has come at a time when demand for all forms of coal has risen significantly and has led to an increase in the metallurgical coal price from US$161/t (CIF China) to US$451/t (CIF China) over the last year. Moreover, the price of coke, the product achieved through the 'cooking' of metallurgical coals through coke batteries, has also seen dramatic prices rises, with an 70% increase over the same period to current levels of circa US$670/t (CIF China). With current shortages, the price of coke is likely to increase even further.
"With the studies now completed and both a regional and global market identified, I believe Lubu is ideally positioned to benefit from this pricing outlook over both the near and medium term. I look forward to providing further updates on our progress in the current quarter, ahead of our transition into a producer early next quarter."
Read the article online at: https://www.worldcoal.com/coal/26102021/contango-holdings-announces-lubu-coal-study-results/
You might also like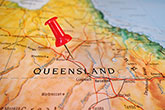 CIMIC Group's minerals processing company, Sedgman, has secured an operations and maintenance contract in the Bowen Basin, Queensland, from Pembroke Resources.