China's import thermal coal market remains tense following import control talk
Published by Claire Cuddihy, Assistant Editor
World Coal,
---
According to a report by sxcoal.com, the Chinese import thermal coal market jittered after a customs notice asked more efforts to keep coal imports in check, especially low-quality coals, which, though in lack of details, could be a sign of a tough way ahead for coal imports into the world's top buyer.
Sources said China's state planner required in a notice to the General Administration of Customs that supervision and control should be strengthened for coal imports, inferior coal in particular, as key part of the drive to resolve surplus capacity in coal and steel industries.
"What we've learned now is only supervision and management to be intensified on coal imports, but not clear message how the restriction would be carried out," said one source.
"Further information is necessary to assess the impact."
Market participants are generally treading carefully before more details of the policy available, like the ports, coal types, time span and magnitude of the enforcement.
"Customs authorities summoned a meeting in afternoon of 18 June, and we're still waiting for instruction," one Zhejiang-based trader said.
One Fujian-based trader said he was still waiting for more details of the import control. He noted import coal arrivals were in a large size in May, which reached a four-month high of 27.47 million t, up 22.99% from May 2018.
"I am checking with sources on the import control; the import market could be choppy if stringent curbs are imposed," one Beijing-based trader said.
The trader reported some utilities only sought for July-loading Australian cargoes previously as they had no import quotas for August, adding tighter grips could be a heavier strike.
Yet one source with a Fujian-based utility doubted the policy, as his plant received a document days ago which pledged to ensure import quotas for utilities during summer peak season.
Wait-and-see sentiment has grown thicker given an unclear sign of the near-future market trend, ahead of the Coaltrans conference that will be held over 23 - 25 June in Bali (Indonesia).
On 18 June, Fenwei CCI price index for Indonesian 3800 Kcal/kg NAR thermal coal was assessed at US$42.3/t CFR, unchanged for five consecutive sessions, and the 4700 Kcal/kg NAR coal further retreated US$0.3/t day on day to US$56.2/t CFR.
The Fenwei CCI index for Australian 5500 Kcal/kg NAR coal was assessed at US$62.5/t CFR on 18 June, further dropping US$0.5/t from a day earlier.
Read the article online at: https://www.worldcoal.com/coal/21062019/chinas-import-thermal-coal-market-remains-tense-following-import-control-talk/
You might also like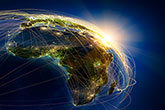 Contango Holdings Plc has advised that the production of washed coking coal has commenced at its flagship Lubu Coking Coal Project in Zimbabwe.