VGK introduces digital services to improve Shakhtersk Coal seaport productivity
Published by Jessica Casey, Editor
World Coal,
---
Vostochnaya Mining Co. has embarked on the second phase of a large-scale project to digitise all of its assets. After the start of the implementation of digital solutions at the Solntsevsky coal mine, the second key asset, the Shakhtersk coal seaport, was connected to the project.
The company started the implementation of the digitalisation system in the port from the transport link. The modern geolocation system was equipped with 28 pieces of equipment operating in the port. The sensors were installed on all excavators, bulldozers and loaders. Further, the entire fleet will be equipped with a fuel control system.
Already at the initial stage of the project, the management of the enterprise will be able to track key performance indicators of the fleet of equipment online and quickly make management decisions based on the data of the monitoring system.
After the installation of all sensors, information about the operation of the equipment, its location, fuel consumption and a number of other indicators that are important for achieving higher production results will be transmitted to a single dispatch centre via the mobile network. Employees of the centre will be able to assess the geolocation of the equipment in real time, determine the effectiveness of the work on historical data in the form of work production tracks and, if necessary, redirect to another site. By displaying the daily location of the machine and the tasks it performs, the geolocation system will help to increase the resource of useful work, eliminating possible downtime and excessive idling.
Fuel control sensors are designed to convert the fuel consumption from the established norms to the actual consumption. Operating expenses for fuel and lubricants are one of the key ones in the company, and the introduction of a fuel consumption control system will allow them to keep accurate records, making the system of its consumption absolutely transparent. The sensors display the complete fuel cycle.
"Thanks to the built-in digital services, we will get a unified picture of all production processes on the port territory and will be able to build a more competent work algorithm, quickly moving equipment to the areas where it is really needed. We will also be able to fine-tune the fuel consumption system, which will allow us to avoid equipment downtime while waiting for refuelling," commented Anatoly Balakin, Director of the UMPSh.
The key stage of digitalisation in the Eastern Mining Co. will be the integration of the entire mining-delivery-shipping cycle into a single online system with the ability to control all production processes.
Read the article online at: https://www.worldcoal.com/coal/16122020/vgk-introduces-digital-services-to-improve-shakhtersk-coal-seaport-productivity/
You might also like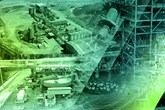 DRA Global has secured the contract for a major design package for Whitehaven Coal's Vickery Extension Project located in New South Wales, Australia.