---
JSC SUEK has published its consolidated interim IFRS financial statements for the 6 months ended 30 June 2021, with the Report on Review of these financial statements signed by AO 'Deloitte & Touche CIS'.
Group financial highlights
SUEK's revenue totalled US$4.2 billion, an increase of 26% compared to 1H20, driven by higher prices and demand at all segments.
EBITDA rose by 35% y/y to US$1.4 billion.
EBITDA margin up 2 p.p. to 34%.
Operating cash flow reached US$1.2 billion, up 31% y/y.
Net profit increased to US$613 million compared to US$132 million in 1120.
Net debt/EBITDA ratio decreased to 2.5x compared to 3.3x at the end of 2020.
Stepan Solzhenitsyn, CEO of SUEK, commented: "In 1H21, we saw markets recover from the recession caused by the COVID-19 pandemic, which had affected all industries. The upturn in manufacturing and consumer activity across the world led to certain economic sectors growing even stronger than before the pandemic, which boosted power consumption. This recovery is ongoing despite new coronavirus outbreaks, with governments now better prepared to cope.
"Still, the pandemic is continuing to create uncertainty, and we remain focused on ensuring the uninterrupted operation of our units and supplies of our goods and services, the health and safety of our employees and on providing every assistance to the regions where we operate. We test our employees for COVID-19 on a weekly basis and in February 2021, we began a company-wide vaccination programme. The rate of infections in 1H21 was less than 3% compared to 10% in 2020.
"Our solid financial and production results once again demonstrate SUEK's ability to overcome challenges. Our strong performance has been underpinned by the diversification of our revenue sources, timely investments in highly efficient operational facilities, efficient production processes and great teamwork."
The company's revenue increased by 26% y/y to US$4202 million. This indicator rose across all three divisions due to favourable market conditions and a recovery in prices and sales volumes.
EBITDA grew by 35% y/y to US$1437 million supported by higher revenues. Strict cost control and synergy effects made it possible to maintain profitability at a healthy level; in the reporting period, the EBITDA margin reached 34%. The group's net profit increased compared to 1H20, to US$613 million, supported by higher operating profit.
The Group's operating activities generated an operating cash flow of US$1247 million, which enabled us to continue with our key investment projects. The CAPEX for capacity development and maintenance amounted to US$386 million and was largely committed to increasing its operational efficiency and environmental performance.
SUEK began projects under the DPM-2 programme to upgrade capacities at Krasnoyarsk power plants 1 and 3, and Tom-Usinskaya GRES. Additionally, by June, the first two electrostatic precipitators were launched at Krasnoyarskaya CHPP-1 with over 99% efficiency of flue gas purification, as part of the environmental project aimed at reducing pollutant emissions into the atmosphere in the city of Krasnoyarsk. By the end of 2024, a total of 14 electrostatic precipitators will be installed.
A major modernisation programme started at the newly acquired Primorskaya GRES, where we replaced gas ducts and boiler equipment and began the turbine repair to improve operational efficiency as well as health and safety. This programme also included the restoration of environmental equipment such as wet scrubbers, gas-intake ducts, coal pulverisation systems. Favourable market conditions allowed us to initiate production at a new longwall face of the 7 November mine in Kuzbass. The company continued work to increase production at the assets aiming to supply Asian markets where netback prices are highest.
The net debt/EBITDA ratio in 1H21 decreased to 2.5x compared to 3.3x at the end of 2020. The improvement reflected an increase in EBITDA in 1H21 and a decrease in overall debt by US$648 million to US$6354 million.
The company's stable cash flow and lower debt burden were recognised by international rating agencies Moody's and Fitch, which in April changed their outlooks from 'negative' to 'stable' and confirmed SUEK's credit ratings at Ba2 and BB, respectively. In June, Expert RA rating agency raised SUEK's credit rating from ruA+ to ruAA-, maintaining a 'stable' outlook. The agency mentioned the company's leading positions in the industry and high level of vertical integration.
Energy
The revenue of Siberian Generating Company for the first 6 months of 2021 grew by 17% y/y to US$1442 million driven by an increase in the sales of capacity, electricity and heat, while higher rouble prices offset the negative effect of rouble devaluation on the dollar revenue. The segment's EBITDA increased by 7% to US$480 million compared to 1H20, and operating profit amounted to US$343 million.
Strong demand for power, supported by lower outside temperatures and the recovery of the local economy from the first wave of the coronavirus pandemic, as well as the addition of sales from Primorskaya GRES and Krasnoyarskaya GRES-2, which were incorporated by the Company during 2020, drove electricity sales growth of 13% to 38.6 TWh and capacity sales growth of 11% to 15.6 GW.
Heat sales rose by 25% to 24.3 MGcal boosted by lower temperatures in 2021 compared to the same period last year.
Responding to the elevated demand, the company's power plants, which mostly cogenerate electricity and heat, increased electricity production to 36.5 TWh and heat production to 28.4 MGcal.
Coal
Total revenue at SUEK's Coal Segment rose by 27% compared to 1H20 to US$2936 million, including US$2513 million external revenue and US$423 million intragroup revenue, driven by a significant price revival. Higher revenue and cost control supported the Segment's EBITDA growth to US$655 million and operating profit to US$344 million.
Major international thermal coal indices more than doubled by June 2021 compared to the lows in 2020. This is mainly due to supply disruptions globally, low temperatures in the Northern Hemisphere in the winter of 2020 – 2021, and further restrictions on Chinese imports of Australian coal due to political disagreements, which caused a redistribution of commodity flows, where Russian coal has filled some of the void left by Australian coal in China. Supply disruptions have been driven by various factors in different countries, with the main ones being infrastructure problems and wet weather. In addition, the rally in the gas market during the wintertime in Asia and the summertime in Europe has been a support factor for the coal market.
SUEK's international coal sales volumes for the 6 months increased by 5% to 27.4 million t following a recovery in demand both in the Asia-Pacific and Atlantic markets. The main international consumers were China, Japan, Taiwan, South Korea, Morocco, Turkey, Vietnam, Poland, Germany and Malaysia. Coal supplies to the Russian market increased by 23% to 31.5 million t, of which 21.8 million t were shipped to the company's power plants, a 45% growth y/y. This growth in sales was driven by company's expansion and an increase in demand.
Coal production rose by 3% y/y to 53.7 million t following a revival in both domestic and international markets. Washing output amounted to 22.4 million t.
Logistics
The total revenue of the National Transportation Company for the period totalled US$1175 million, up 21% y/y, including US$279 million of external revenue, driven by higher transportation volumes. The EBITDA of the logistics business reduced by 11% to US$319 million as its operating profit went down by 13% to US$217 million caused by lower railcar delivery rates y/y amidst gondola railcar excess in the market in first months of the year compared to 2020.
As at the end of June, the railcar fleet operated by the company exceeded 56 000 cars, with higher-capacity railcars making 67% of the gondola fleet and 32% of the hopper fleet. In the reporting period, the total volume of different types of loads transported by the railcar fleet under SUEK's management increased by 19% to 63 million t, supported by transportation by hopper railcars taken into management in the beginning of 2021 and increased coal deliveries.
Port transhipment increased by 1% to 23.7 million t, including 18% non-coal transhipment, driven by revived export volumes.
Read the article online at: https://www.worldcoal.com/coal/16072021/suek-publishes-1h21-ifrs-results/
You might also like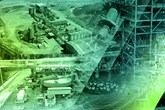 DRA Global has secured the contract for a major design package for Whitehaven Coal's Vickery Extension Project located in New South Wales, Australia.