---
Leigh Creek Energy Limited (LCK) has signed a Heads of Agreement (HoA) to commence in-situ gasification (ISG) operations in China.
The HoA with China New Energy Ltd (CNE) establishes the process to develop a full commercial agreement through a joint working group to formalise documentation and then the forming of a joint venture company to deliver ISG in China.
LCK has also been invited to be in formal discussions with the Shanghai International Energy Exchange Co. Ltd. (INE) to become a member of the exchange.
This will allow LCK and CNE to directly trade its gas on the exchange.
These recent developments have been under discussion for some time as part of LCK's strategy towards commercialising the LCEP and flow from LCK's successful pre-commercial demonstration (PCD).
LCK Executive Chairman Justyn Peters said the agreement is an exciting development for LCK and gives the company a quick path to revenue.
"CNE are a large privately-owned group and our largest shareholder, and this agreement shows they are not only investors in the company, but have actively worked with LCK to gain a strong foothold in China and for LCK to grow," Peters said.
"This was always the strategic intention when CNE became a shareholder and we are pleased that this strategy is now developing."
"We are proud of our relationship with CNE and Shanxi Meijin Energy and the opportunity to join the Shanghai International Energy Exchange gives us direct access to the Chinese energy market."
Hydrogen production from coal
A major focus of the LCK and CNE joint venture agreement (JVA) will be the production of hydrogen from ISG for use in both China generally, and for CNE's hydrogen energy industrial development in Shanxi.
CNE owns large underground coal resources in Shanxi, which it plans to develop under this JVA.
LCK's successful ISG operations blueprint developed through its PCD at the former Leigh Creek coalfield provides the key for safely utilising previously inaccessible coal resources for energy production in China.
The company's success in South Australia provides a validated pathway for producing high-grade gas, hydrogen and other energy sources from previously inaccessible deep coal, within the world's strictest environmental and safety guidelines.
This blueprint is of importance for places like China, which has large amounts of deep coal either financially or physically inaccessible using traditional mining methods.
Syngas produced by LCK during the recent PCD operation is hydrogen rich, producing syngas comprising up to 33% hydrogen, with optimised production capable up to 45% hydrogen levels.
"China is a coal rich country with a large resource of stranded coal suitable for ISG," Peters said. "China is also rapidly moving to a hydrogen economy and ISG can produce huge amounts of hydrogen.
"The development of ISG in China represents a great opportunity for LCK to be a major player in this developing economy."
It is the aim of both parties to have the JVA formalised before the end of 2019 and to have commenced an ISG project in the last quarter of 2019.
Read the article online at: https://www.worldcoal.com/coal/15082019/lck-signs-agreement-to-undertake-isg-operations-in-china/
You might also like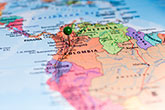 Benjamin Hill has entered into a nonbinding letter of intent with Aion to acquire interest in a Colombia coal project.