---
Australia will continue to be a strong supplier of steel-making (metallurgical) coal over the next couple of decades due to its high quality, according to a report recently released by the Minerals Council of Australia (MCA).
'Australian Metallurgical Coal: Quality Sought Around the World' – the second in the MCA's 'Best in Class: Australia's Bulk Commodity Giants' series – is an in-depth exploration of how and why Australia is the largest seaborne exporter of steel-making coal.
Metallurgical coal is a critical component for steel making and Australia's quality attracts customers from around the world from Asian countries such as India, China, Japan, South Korea, and Taiwan all the way to the EU. Over 96% of Australia's metallurgical coal production is exported.
Using high-quality Australian metallurgical coal reduces emissions while maximising productivity for blast furnace operators.
MCA member companies are already taking action to further reduce emissions from the use of metallurgical coal. For example, BHP signed a memorandum of understanding with world leading steel producer, China Baowu, in November 2020 with the intention to invest up to US$35 million and share technical knowledge to help address the challenge of reducing greenhouse gas emissions facing the global steel industry.
The accelerated deployment of existing low emissions technologies and greater research and development of new and emerging technologies will be required to ensure the world is able to achieve the emissions reduction goals of the Paris Agreement.
Many of the metallurgical coals produced in Australia are integral to global steel production because of their specific properties which optimise blast furnace performance.
In 2019, Australia exported 184 million t (worth AUS$41.3 billion) of metallurgical coal, while North America (50 million t), Russia (39 million t) and Canada (35 million t) exported significantly smaller volumes.
Written by industry expert Anthony Le Bas, the report indicates the Indian market for steel-making coal is expected to substantially grow as steel production in the South Asia nation grows over the next 20 years.
High quality metallurgical coal is produced in New South Wales (the Illawarra, Hunter Valley, Gloucester Basin, and Gunnedah Basins, exported via Port Kembla and Newcastle) and in Queensland (Bowen Basin, exported via Hay Point and Abbot Point).
Australia's world-leading metallurgical coal miners provide jobs for thousands of Australians in regional areas and contribute significantly to the local and national economy, and these areas are well placed to continue producing metallurgical coal for years to come to support global growth and infrastructure development.
Read the article online at: https://www.worldcoal.com/coal/10052021/australian-metallurgical-coal-to-continue-supporting-economies/
You might also like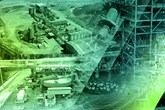 DRA Global has secured the contract for a major design package for Whitehaven Coal's Vickery Extension Project located in New South Wales, Australia.