---
The Office of Surface Mining Reclamation and Enforcement (OSMRE) has announced the availability of the Fiscal Year 2017 Abandoned Mine Land (AML) Reclamation fund grants, which will provide nearly US$181 million to states and tribes to reclaim abandoned coal mines. The total distribution is about US$13 million less than what the states and tribes would have received without sequestered funding.
Abandoned Mine Land (AML) grants are funded in part by a fee collected on all coal produced in the US to help eliminate dangerous conditions and pollution caused by past coal mining. Past AML-funded projects have closed dangerous mine shafts, reclaimed unstable slopes, treated acid mine drainage, and restored water supplies damaged by mining.
"We still have much work to do" said OSMRE Director Joe Pizarchik.
"We continue to discover threats from left-behind mine pits, dangerous highwalls, acid mine drainage that pollutes our water supplies, and hazardous mine openings. AML money could have, and can, help provide jobs to people in need throughout coal country."
OSMRE, and its state and tribal partners, have worked for more than 39 years to address the ongoing threats from lands that were mined and then abandoned before 1977, when the Surface Mining Control and Reclamation Act took effect. Even with that work completed, more than US$7 billion of problems remain in the latest inventory of critical items known as Priority 1 threats.
OSMRE provides AML grants to 28 coal-producing states and tribes according to a congressionally mandated formula based on their past and current coal production. During 2017, eligible states and tribes will apply for annual reclamation grants to access money in their allocations. After OSMRE has evaluated and verified the requests, the bureau will make the award amounts available. Among the states with the largest allocations are Wyoming (US$39.4 million); Pennsylvania (US$33.6 million); West Virginia (US$23.3 million); Kentucky (US$12.7 million) and Illinois (US$12.3 million).
Read the article online at: https://www.worldcoal.com/coal/09012017/osmre-grants-to-fund-reclamation-of-abandoned-coal-mines/
You might also like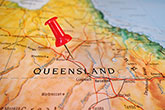 CIMIC Group's minerals processing company, Sedgman, has secured an operations and maintenance contract in the Bowen Basin, Queensland, from Pembroke Resources.