---
PwC has published its annual Mine report, which outlines the many new records set by the world's 40 largest mining companies.
The report outlines a first ever collective net loss (US$27 billion) for the Top 40 miners with market capitalisation falling by 37%, effectively wiping out all the gains made during the commodity super cycle.
Michal Kotzé, Mining Industry Leader for PwC Africa, said: "Last year was undoubtedly challenging for the mining sector. The Top 40 experienced their first ever collective net loss, their lowest return on capital employed, a significant drop in market capitalisation, and an overall decline in liquidity with the result that the Top 40 were more vulnerable and carrying heavier debt loads than in prior years."
"We are also seeing shareholders persist with a short term focus, impacting the capital available for investment and, as a result, constraining options for growth. But this is a hardy industry, and while many miners may be down they are certainly not out."
With a further $53 billion of impairments in 2015, miners have now collectively wiped out the equivalent of 32% of their actual capex since 2010. This also represents a hefty 77% of this year's capital expenditure. "While it is unfair to focus on the charges incurred this year as price assumptions were adjusted down, a longer-term perspective indicates a lack of capital discipline. In fact, from 2010 to 2015, the Top 40 have impaired the equivalent of a staggering 32% of their capex incurred," added Andries Rossouw, Assurance Partner, PwC.
While China is still critical to the success of the mining industry, accounting for about 40% of overall commodity demand, it can no longer be relied on to supercharge returns. The number of Chinese mining companies in the Top 40 continued to increase from nine to 12.
Debt management has moved to the top of the business agenda for many of the Top 40 miners. Leverage is at an all-time high and cash used to repay debt was broadly equal to cash from borrowings. It's no surprise that the ratings agencies responded with widespread ratings downgrades.
Adds Rossouw, remarked: "The response of the Top 40 miners has been twofold: an even greater focus on cutting expenditure, whether operational or expansionary, and an acceleration in asset sales. It will be interesting to see if these efforts can continue and the subsequent knock-on effects."
While the mining industry continues to face significant challenges and constraints, Rossouw maintains there is still a long-term positive outlook. "Many of the Top 40 appreciate what is required for the marathon of mining and have their eyes firmly fixed on the long-term rewards."
Edited from press release by Angharad Lock
Read the article online at: https://www.worldcoal.com/coal/07062016/pwc-publish-mine-2016-report-915/
You might also like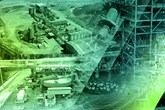 DRA Global has secured the contract for a major design package for Whitehaven Coal's Vickery Extension Project located in New South Wales, Australia.