CRU: coal demand on the up despite China's drive to become more environmentally friendly
Published by Claire Cuddihy, Assistant Editor
World Coal,
---
According to CRU, China's growing demand for power means that coal will remain an important source of fuel for many years to come despite its growing ambitions to become more environmentally friendly.
Coal's share in power is expected to gradually fall as the government's desire to shift to gas increases. However, soaring gas import prices and insufficient infrastructure are limiting the extent to which gas can replace coal in the medium term.
Stricter and more expansive environmental policies
China is reportedly trying to find the right balance between its traditional mantra of strong economic growth with its more recent quest for a growth that is more environmentally and financially stable. It appears China is willing to sacrifice domestic production and trade for cleaner air.
In early 2016, the National People's Congress of China ratified its 13th 5-year plan. It included more stringent environmental policies designed to reduce air pollution by promoting the use of natural gas. The largest step taken to meet these targets is the '2+26 cities policy'. This policy targets pollution in the winter months, by monitoring the largest polluting industries in the two provinces and 26 cities most inundated with smog. The strict targets are met by shutting down heavy industry that cannot operate below a certain emission threshold in winter – when the demand for residential heating naturally rises. These policies also encourage industry to use cleaner fuels, as a way of ensuring they can stay open throughout the year.
How China's quest for blue skies is progressing
China's power demand has been rising rapidly. During the first five months of 2018, power demand grew by 8.5%, up from 6% in 2017. This rise can be attributed to the growing demand for power from the residential sector, which increased by 13% yr/yr since the start of 2017. CRU also believes that improving environmental efficiencies has forced industry to become more power intensive to meet specific requirements. As such, total power generation is expected to continue to rise at a similar rate, with coal power generation also increasing from current levels however, its share in the power mix is expected to fall over time.
Read the article online at: https://www.worldcoal.com/coal/06082018/cru-coal-demand-on-the-up-despite-chinas-drive-to-become-more-environmentally-friendly/
You might also like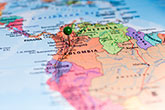 Benjamin Hill has entered into a nonbinding letter of intent with Aion to acquire interest in a Colombia coal project.