---
Warrior Met Coal, Inc. has recently announced its results for 1Q21. Warrior is a leading dedicated US based producer and exporter of high quality metallurgical coal for the global steel industry.
Warrior reported a net loss for 1Q21 of US$21.4 million, or US$0.42 per diluted share, compared to net income of US$21.5 million, or US$0.42 per diluted share, in 1Q20. Adjusted net income per share for 1Q21 was US$0.08 per diluted share compared to adjusted net income per share of US$0.39 per diluted share in 1Q20. The company reported adjusted EBITDA of US$47.1 million in 1Q21, compared to adjusted EBITDA of US$62 million in 1Q20.
"During the first quarter, we saw COVID-19 and the Chinese ban on Australian coal have a continued impact on both pricing and demand across the met coal industry," commented Walt Scheller, CEO of Warrior. "However, we remained focused on successfully managing our costs, working capital and CAPEX spending, which enabled us to be free cash flow positive despite these headwinds."
Scheller continued: "The end of the first quarter also coincided with the expiration of our Collective Bargaining Agreement with the United Mine Workers of America (UMWA) on 1 April 2021. While we continue to negotiate in good faith with the UMWA to reach a new contract, the UMWA has chosen to initiate a strike."
"Importantly, we have business continuity plans in place to continue meeting the needs of our valued customers during this time."
Operating results
The company produced 2.2 million short t of metallurgical coal in 1Q21 compared to 2.1 million short t in 1Q20. Sales volume in 1Q21 was 2 million short t compared to 1.8 million short t in 1Q20. Inventory levels rose to 1.2 million short t at the end of 31 March 2021 from the 998 000 short t at the end of 2020.
Additional financial results
Total revenues were US$213.8 million for 1Q21, including US$207 million in mining revenues, which consisted of metallurgical coal sales of 2 million short t at an average net selling price of US$106.04 per short t, net of demurrage and other charges. This compares to total revenues of US$226.7 million in 1Q20. The average net selling price of the company's met coal declined 13% from US$122.02 per short t in 1Q20 to US$106.04 per short t in 1Q21. During 1Q21, the company averaged a metallurgical coal selling price of US$106.04 per short t, which corresponds to 95% of the quarterly Australian premium low-volatility hard coking coal (HCC) Platts Premium LV FOB Australian Index (the Platts Index) price for the same period. The y/y decline in revenues and profits is primarily attributed to weaker metallurgical coal pricing in challenging market conditions associated with the impact of COVID-19 and the Chinese ban on Australian coal.
Cost of sales for 1Q21 was US$154.4 million compared to US$151.5 million for 1Q20. Cash cost of sales (including mining, transportation and royalty costs) for 1Q21 were US$153.5 million, or 74.2% of mining revenues, compared to US$150.7 million, or 68.1% of mining revenues in the same period of 2020. Cash cost of sales (free-on-board port) per short t decreased to US$78.64 in 1Q21 from US$83.07 in 1Q20, reflecting Warrior's low and variable cost structure and focus on cost control during periods of depressed metallurgical coal prices.
Selling, general and administrative expenses for 1Q21 were US$7.6 million, or 3.6% of total revenues, and were 9.7% lower than in the same period last year. Depreciation and depletion costs for 1Q21 were US$32.9 million, or 15.4% of total revenues, and were 14.7% higher than in the same period last year. Warrior incurred net interest expense of US$8.7 million during 1Q21, which was higher than the same quarter last year due to interest on its ABL draw and lower returns on its cash balances. Income tax expense was US$23.6 million in 1Q21 due to a noncash charge recognised upon the establishment of a valuation allowance against the company's state deferred income tax assets. This result was due to a change in Alabama tax law on 12 February 2021, which became effective 1 January 2021, and required all sales originating in Alabama and delivered to a jurisdiction where the seller is not subject to tax to be excluded from Alabama taxable income without the need to utilise the Alabama net operating losses. This compares to income tax expense of US$3.2 million in 1Q20.
Read the article online at: https://www.worldcoal.com/coal/06052021/warrior-met-coal-reports-1q21-results/
You might also like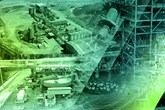 DRA Global has secured the contract for a major design package for Whitehaven Coal's Vickery Extension Project located in New South Wales, Australia.