SUEK to invest US$4 million in environmental programmes
Published by Angharad Lock, Digital Assistant Editor
World Coal,
---
SUEK will invest over RUB 250m (approximately US$4 million) in environmental programmes in Krasnoyarsk in 2017. This includes over RUB 110m of investment in a series of activities dedicated to the Year of the Environment in Russia, under the agreement between SUEK, the Ministry of Natural Resources and Environment of the Russian Federation, the Federal Service for Supervision of Natural Resource Usage, and the Government of Krasnoyarsk region.
Viktor Tomenko, Chair of the Government of Krasnoyarsk region noted while signing the agreement: "Every year SUEK is mining about 28.5 million t of coal in Krasnoyarsk region. This product is supplied to key power supply facilities and public utilities. As we know this company as a reliable employer and taxpayer which cares about the regions where it operates, the regional Government has no doubt that all of SUEK's planned environmental actions will be implemented with high quality and on schedule".
The focus of the environmental programme will focus on SUEK's environmental policy as a practical prevention of adverse impact of coal mining operations on the environment.
In 2016 the Company already started large-scale environmental projects. Thus construction of water treatment facilities at the Borodinsky open pit was completed. From now on quarry water will undergo two stages of mechanical treatment with partial bio-treatment effect before being discharged to water sources. Therefore, the content of pollutants resulting from draining water from coal seams in quarry water is minimised. Under the programme for rehabilitation of water resources, the mine's environmental staff released over 2000 sturgeon juveniles into the Yenisei river.
Water treatment facilities at the Berezovsky open pit were renovated, and a new system for disposal of industrial waste including flammable materials was implemented. A specially designed heat-treatment unit was purchased for disposing of such waste right at the mine whereas previously the mine had to truck them 300 km away for transferring to third-party contractors. The unit is very environmentally friendly – it features a state of the art filtering system for exhaust gases, which minimises atmospheric emissions.
A series of environmental actions related to air protection have been implemented at the Nazarovsky open pit, and over 800 ha. of reclaimed lands have been returned to the state.
In 2017 the Company is planning to renovate the water removal system at the Borodinsky open pit. The objective is to introduce solutions that minimise pollution of water removed after dewatering coal seams. A similar system will be designed for the Nazarovsky open pit. Moreover, the Company is planning to equip its service providers, which are factories built during the Soviet times, with modern furnaces which will have no effect on the outside air.
Read the article online at: https://www.worldcoal.com/coal/06022017/suek-to-invest-us4-million-in-environmental-programmes/
You might also like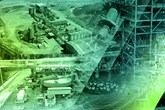 DRA Global has secured the contract for a major design package for Whitehaven Coal's Vickery Extension Project located in New South Wales, Australia.