---
Argus Media is reporting that the Chinese government is planning to crackdown on air pollution by moving all haulage of coking coal, as well as iron ore, from the country's key ports to either rail or waterways by November 2020, thus ending the use of trucks.
Consequently, steel companies will be expected to accelerate construction of special railway lines connecting mills to major rail networks; the intended effect of this is to reduce the use of trucks for last-mile transportation of iron ore and coking coal.
Tangshan, the largest steelmaking city in the country, has already announced plans to bring all iron ore and coal from port to steel mills via rail by the end of 2019.
The government expects half of bulk cargo in the Hebei-Beijing-Tianjin region, the Yangtze river delta and the northern provinces of Shaanxi and Shanxi to be hauled on railways in the next two years.
Despite the government's ambition, many have reservations about the logistical and economic viability of transitioning to new means of transportation in such a short period. It is feared that the move to railways could have a major impact on the landed cost of raw materials at mills; whether costs rise or fall would be determined by how efficiently the proposed changes are made.
The measures are a key element in a new plan by the state council, China's cabinet, to reduce pollution sharply by 2020. The plan widens the pollution control drive so that it now covers 80 cities in provinces including Shaanxi, Shanxi, Anhui, Jiangsu and Zhejiang, as well as the city of Shanghai, instead of the 28 cities in Hebei, Shandong and elsewhere that were initially targeted last year. Most of the cities will be given responsibility for setting their own targets for steel production in the coming November-April winter heating season, replacing the flat 50% target for pig iron output cuts that was centrally imposed on the 28 cities last winter.
The new plan also stipulates an accelerated shutdown of standalone coking enterprises in the province of Hebei by 2020 and again affirms a commitment to curb Hebei's steel production capacity to below 200 million tpy. Hebei produced 193 million t of crude steel in 2016.
Steel mills in urban, built-up areas will either be shut down or relocated to less populated regions, while any capacity replacement projects will have to meet strict conditions. The government said it will remain on guard against a possible resurgence of scrap-fed induction furnace capacity, which it claimed to have completely eliminated last year.
Read the article online at: https://www.worldcoal.com/coal/04072018/china-planning-to-move-all-haulage-of-coking-coal-to-rail-or-waterway-by-late-2020/
You might also like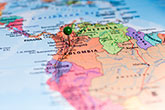 Benjamin Hill has entered into a nonbinding letter of intent with Aion to acquire interest in a Colombia coal project.