---
Atlas Copco has introduced its SmartROC D60, a surface drill rig for most types of surface drilling applications and tough conditions.
A drill rig that is robust enough and smart enough to tackle aggregate and limestone quarrying, as well as surface mining and construction drilling, has been developed by Atlas Copco.
SmartROC D60, a highly versatile Down-The-Hole (DTH) rig is designed for drilling 110 –178 mm (4 5/16 – 7 in) holes and can be used in a wide variety of applications and challenging drilling conditions.
The rig's hole navigation (HNS) and auto positioning systems ensure that the rig will locate the exact position of each hole and then accurately collar and drill them to precisely the required depth and inclination. This gives a better fragmentation and improves both the loadability and crushability.
In addition, the robust, standard feed carrying 5 m tubes, features built-in sensors in the rod handling cylinders and carousel motor, enabling more reliable rod handling and eliminating the need for inductive sensors. The rig also has Auto Rod Handling as a standard feature to automatically add and then extract the rods when the desired depth is reached.
Low fuel consumption is achieved through intelligent control of the compressor load and engine RPM, resulting in an estimated fuel saving of up to 15% compared to the FlexiROC D60.
Mike Wentworth, Product Manager for Atlas Copco in the US, said: "What we have in the SmartROC D60 is robustness and intelligence working together to achieve optimum performance and cost efficiency. The result is that the owner gets more holes per shift and consistently high productivity."
Mattias Hjerpe, Product Manager at the Surface and Exploration Drilling division in Sweden, added: "The development of this rig is the latest in our drive to produce a wider range of surface drill rigs that can give better results at lower costs. It's the smart way to go in today's economy and I can promise that these rigs will get even smarter in the future."
The SmartROC D60 can also be used for toe-hole, dewatering hole and horizontal drilling, and, as the feed can be positioned horizontally, feed maintenance is also easier.
At worksites where bench stability may be in doubt, the SmartROC D60 can be used together with Atlas Copco's BenchREMOTE operator station that enables it to be operated at a distance of up to 100 m.
Edited from press release by Angharad Lock
Read the article online at: https://www.worldcoal.com/coal/04022016/atlas-copco-launches-smartroc-d60-522/
You might also like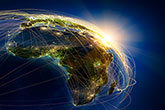 Contango Holdings Plc has advised that the production of washed coking coal has commenced at its flagship Lubu Coking Coal Project in Zimbabwe.