---
Realm Resources Ltd has provided an update on activities during the quarter.
Foxleigh Coal Mine
Realm's subsidiary, Middlemount South Pty Ltd has successfully taken over operatorship of the Foxleigh mine. The new management team has settled in and made good progress ensuring an efficient and effective operational transition.
Exploration and development
The Company commenced an initial three stage exploration program on the existing mining leases costing circa $1.5m. Stages 1 and 2 were completed in early December and consisted of 35 boreholes including:
28 chip holes – defining coal structure.
6 × 4C cored holes – defining coal quality.
1 × HQ cored hole – defining geotechnical properties.
Quality results are expected to be received during the first quarter.
The third stage commenced in December and is expected to be completed towards the end of the March quarter. This stage includes a further 33 holes as follows:
20 chip holes – defining coal structure.
12 × 4C cored holes – defining coal quality.
1 × HQ cored hole – defining geotechnical properties.
The results will be used to update the existing JORC resources and reserve statement. In addition, the Company has also commenced a review of existing drilling information on its 100% owned EPC's 855 and 1669 adjacent to the Foxleigh mine.
Coal market update
The quarterly benchmark price for low-volatile PCI coal for the period January to March 2017 (i.e. JFY Q4) has increased by 35% to US$180/t.
Foxleigh's premium high quality LV PCI coal is sold to longstanding customers in key export markets including South Korea, Japan, and Taiwan, and the majority of sales are at the benchmark price.
JORC statement of coal resources and reserves
The company has undertaken the necessary geological assessments and studies required to estimate the coal resources and reserves for the Foxleigh Coal Mine. Coal resources and reserves reported in accordance with the 2012 JORC Code have been estimated for the Foxleigh Mine as at 31 October 2016. All tonnages are PCI quality coal and are quoted on a 100% basis.
Total Coal Resources for the Foxleigh Mine have been estimated at 82.3Mt.
Total Coal Reserves for the Foxleigh mine have been estimated at 52.7Mt (29.2Mt Proved and 23.5Mt Probable). Total Marketable Coal Reserves for the Foxleigh mine have been estimated at 39.2Mt (22.4Mt Proved and 16.8Mt Probable).
Katingan Ria Coal Project
The Company continues to engage with PLN and other potential partners/buyers in order to progress its power station strategy. The Katingan Ria thermal coal project (Realm 51%) is ideally suited to supply proposed power stations in the region – i.e. Kalselteng No.1 (2x100MW) Kalselteng No.3 (2x100MW). These developments have unfortunately been delayed (Figure 3). More recently, the thermal coal price for expected Katingan Ria coal increased to US$52.00/t before declining again to US$37.20/t at the end of the quarter. At the time of writing the price has risen to US$42.00/t.
Read the article online at: https://www.worldcoal.com/coal/03022017/realm-resources-provides-activities-update/
You might also like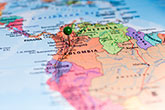 Benjamin Hill has entered into a nonbinding letter of intent with Aion to acquire interest in a Colombia coal project.