---
Vitrinite Pty Ltd has identified 123 million t of coking coal in the Karin Basin tenement in the Bowen Basin – much of which has the highest fluidity ever recorded in Australia.
The company was formed against the backdrop of a collapse in coal exploration spending across Queensland, from US$718 millon in 2011-12 to just US$119 million in 2015-16.
Principal Geologist Dr Guy LeBlanc Smith said the Karin Basin deposit, near Clermont, contained "extraordinary metallurgical coal" despite being on the western edge of a known thermal coal field.
"The potential for this area was not fully appreciated until now," Dr LeBlanc Smith said. "An oasis of high-quality coking coal has been found on thermal coal terrain. Some of the seams are up to 15m in places. It's a very unusual, but pleasant, find."
Moreover, the fluidity of the Karin Basin coal ranks among some of the world's best as new sources of high-quality coals continue to diminish globally.
Vitrinite Managing Director Nick Williams said the planned Karin Basin mine would generate 300-400 jobs during construction and 250-300 jobs during full production, proving coal still has a bright future in Queensland.
"When we formed the company three years ago people said we were crazy to explore for coal, everyone else had stopped, but we hit it hard and the result speaks for itself," Mr Williams said.
"Some big companies are getting out of the industry, but the reality is demand for Queensland coking coal is strong and even thermal coal still has a big future in Asian markets," Mr Welker said.
"The world still needs an enormous amount of steel. Coal of this quality – which is essential to steel manufacture – is becoming increasingly rare.
"The importance of Queensland to steelmaking can be seen in the reaction in global markets as result of the recent supply disruptions caused by Cyclone Debbie."
Vitrinite's optimism is beginning to be shared by other miners, with Queensland Resources Council reporting an uplift in exploration in the past 12 months.
The release of the Karin Basin's Joint Ore Reserves Committee (JORC) code report this week follows another promising Vitrinite discovery in the Bowen Basin's Wilson Creek asset, 20 km north of Glenden.
Wilson Creek contains 61 million t of highly accessible thermal and metallurgical coal.
Much of the seam lies very close to the surface and its low stripping ratio, combined with proximity to existing rail and coal washing facilities, secures a future mine will benefit from low start-up costs.
"We did sometimes wonder how this opportunity ever came about at all," Mr Welker said.
"The tenement lies dead centre between two mines and has signs of coal even at the surface.
"One of our bigger peers dropped the ground decades ago and it has turned out to be an almost 'too easy to be true' exploration success for Vitrinite."
An open-cut mine at Wilson Creek will create 50-60 jobs.
Vitrinite has pledged that all its future permanent mine employees will be hired locally.
"We have a different approach to others in the coal industry," Mr Williams said.
"We couldn't have been more fortunate to find these incredible deposits and we will ensure that the whole community benefits as a result."
Read the article online at: https://www.worldcoal.com/coal/02062017/extraordinary-bowen-basil-coal-deposit/
You might also like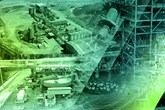 DRA Global has secured the contract for a major design package for Whitehaven Coal's Vickery Extension Project located in New South Wales, Australia.